Have you signed up for the Fuel Rewards Network yet? If you're wondering about the whole e-coupons thing they have going over there under "shop and earn," these appear to be powered by SavingStar — but here's why I think SavingStar is a safer bet.
Note: Once you load an e-coupon on SavingStar, it disappears from FRN, and vice versa.
Overlapping e-coupons — but what are they worth?

Here's a new GUM toothbrush offer on SavingStar this morning: Buy two, get back $1.00 into your SavingStar account.
Here's the same GUM toothbrush e-coupon offer on Fuel Rewards Network this morning: Buy two, get $.05 off per gallon up to 20 gallons.
Isn't that the same?
If you use all 20 gallons, this offer is identical — $.05 off per gallon savings at 20 gallons = $1.00. But, many of you have complained about the "use it or lose it" nature of fuel rewards: If you aren't able to pump 20 gallons at one time, the $.05 per gallon savings disappears. If you end up only pumping 15 gallons, for instance, your GUM toothbrush e-coupon for $.05 off per gallon is now worth $.75 instead of $1.00.
And, what if you buy your toothbrushes at CVS?
Over on SavingStar, most e-coupons are valid at CVS, Jewel-Osco, and/or whatever other participating stores are in your area. On Fuel Rewards Network, it appears to be limited to participating groceries. So if you decide not to buy your toothbrushes at Jewel, but instead pick them up at CVS, you'll only earn the cash back if you loaded the e-coupon at SavingStar rather than at FRN.
No "one or many"

On SavingStar, you'll see "one or many" trips offers, such as this morning's Unilever offer: Buy $20 in Unilever products by Thanksgiving, which it will track on your cards, and get $5.00 back. These offers are not currently available on FRN.
No CVS-exclusive offers

SavingStar also sometimes has CVS-specific offers, such as this morning's for GUM Canker-X. Since CVS isn't a participant in FRN, you won't see the same offer over on Fuel Rewards Network.
But are offers ever better on Fuel Rewards Network?
Occasionally you will see a slightly better offer on FRN. This morning, for instance, SavingStar has an offer for buy one GUM soft picks, get back $.55.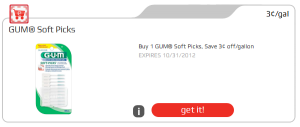 Fuel Rewards Network has the offer as $.03 off per gallon wyb GUM soft picks. IF you are able to use 20 gallons in one fill-up, the FRN offer equates to $.60, which is $.05 more than the SavingStar offer.
What do you think?
I think I'll be sticking with SavingStar — it's easier just to go to one place and I don't want to miss offers, even if the occasional FRN offer is better. Will definitely keep an eye on it, though, in case they decide to start offering FRN-exclusive offers or offers that beat out SavingStar in the future.
Sign up — and start with some savings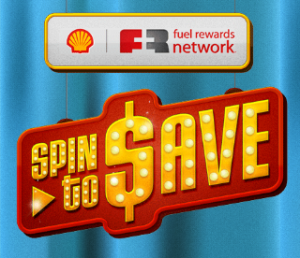 I do, however, like Fuel Rewards Network for other reasons, and you'll definitely want to link your Jewel Fuel Rewards card. 🙂 If you haven't yet signed up — go here first and play Spin to Save! You can win $.05 to $.25 off per gallon, but this is just for new Fuel Rewards signups. Either sign up as new and request a new Fuel Rewards Network card, or sign up and link your Jewel Fuel Rewards card. You can keep spinning til you hit a good number — it'll let you try three times, and if you're still at $.05 off a gallon, just close the window and try again til you hit $.20 or $.25 off per gallon.