This review has been sponsored by Restaurant.com as part of its Review Crew program. All opinions in this post, however, are my own.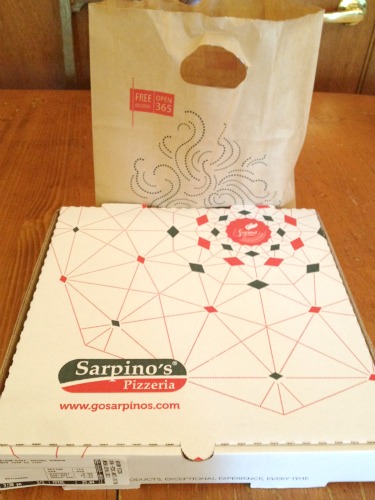 Restaurant.com recently eliminated their dine-in only requirement, as well as several other restrictions on their gift certificates! This is good news for a lot of us, when the cost of the babysitter or bringing the kids along can sometimes outweigh the savings we get on the Restaurant.com site. So, what better way to celebrate this news than with carryout pizza from Sarpino's Pizzeria in Downers Grove, where we recently picked up a lovely (and for grown-ups) meal. Yes, that Sarpino's is a carryout & delivery location anyway, despite the current sit-down photo on the Restaurant.com site — but it's the spirit that counts!
I used the Sarpino's online ordering system, which worked nicely — and was also useful that it allows for a future pickup time. Some days you may be by your computer to place an order earlier, but be out and about later and unable to order around the time you need to pick up dinner. So, I placed a future order to see if they would indeed fresh make it at the specified time. I arrived right about the specified order time, and had to wait 2 minutes for the pizza to finish cooking, so that worked out quite nicely.
For this order, I purchased and used a $10 Restaurant.com gift certificate (the only denomination they had available for Sarpino's), which had a $20 minimum purchase requirement. The salad and pizza easily pushed us over $20.00, so that wasn't a problem, and it was easy to redeem — I just handed it over when I went to pick up the pizza, and they took the $10 off the total before I paid the balance.
Also useful: Options, Sarpino's has options! This is the page for pizza sauce options alone, and then you move on from there into the wonderland of available toppings.
Since this was a kid-free meal, I opted here for toppings including: Spinach, marinated artichokes, mushrooms, and feta. Each pizza also comes with your choice of dipping sauce. (See: They have options!)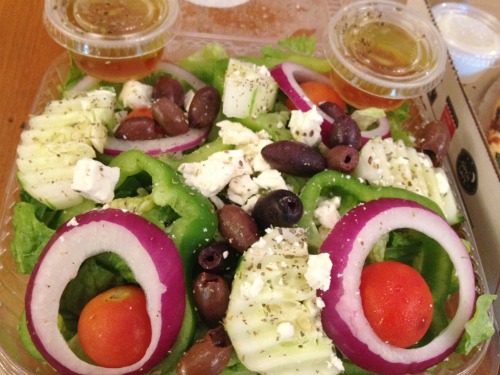 On the side, Greek salad. This came with cherry tomatoes, red onion, green pepper, cucumber, feta, kalamata olives, and Greek dressing. The salad was quite tasty and sported generous amounts of feta and olives, although I wish it had been a bit larger for $6.49.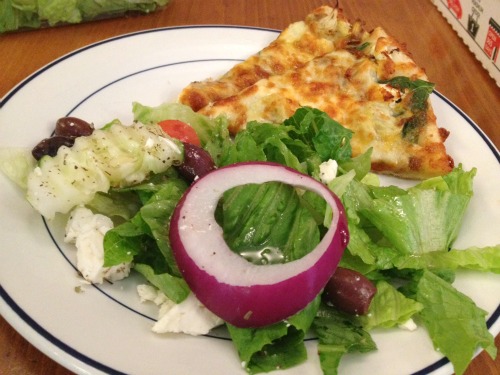 Sarpino's does of course have a number of other menu options, but it's always good to judge a pizza place on the basics before ranging further afield. And, they passed with flying colors: Delicious, and the salad perfectly complemented this pizza.

In fact, this was tasty enough that I think I'll even forgive their computer for abbreviating my name to "Gordo" — which my rusty high school Spanish tells me is not a compliment, lol. So, if you're in the area, check out Sarpino's the next time you're browsing discount gift certificates on Restaurant.com.
About Restaurant.com
Restaurant.com is the trusted and valued source connecting restaurants and diners nationwide.  The company offers savings at thousands of restaurants nationwide with more than 50,000 gift certificate options.  Restaurant.com brings people together to relax, converse and enjoy well-prepared and -served meals at affordable prices.  To date, Restaurant.com customers have saved more than $1 billion through the gift certificate program. Restaurant.com has operated since 1999 and is based in Arlington Heights, Ill.