This review has been sponsored by Restaurant.com as part of its Review Crew program. All opinions in this post, however, are my own.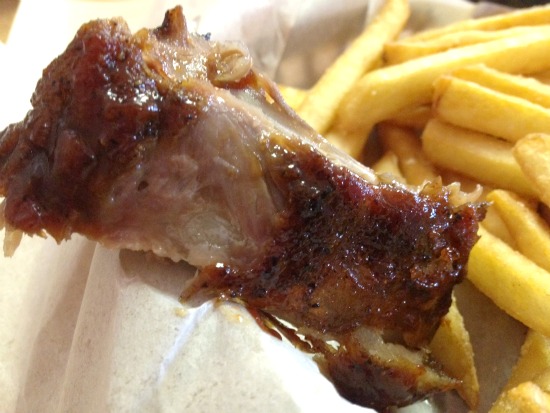 I love trying new restaurants through Restaurant.com! And, I really can't believe we didn't find this one earlier — Salt Creek Barbecue may just be our new favorite BBQ place. Actually, it's probably for the best that it is not quite close enough to us to just pop in all the time.

For this order, I purchased and used a $10 Restaurant.com gift certificate (the only denomination they had available for Salt Creek — I'd really prefer to see a $25 one, but!). This had a $15 minimum purchase requirement, which was pretty easy to meet when feeding a family of four. As usual, no problems at all redeeming this at the restaurant; we just printed the certificate out and handed it over for $10 off our bill.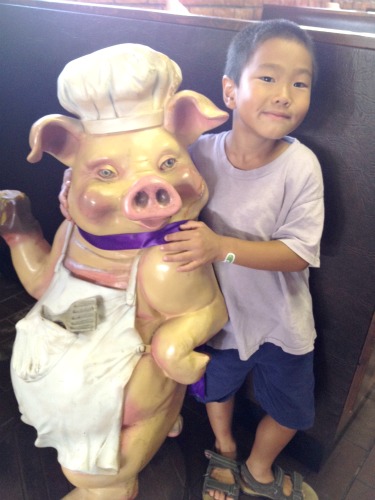 The decor won Mr. 6 over immediately, before we even got to the food. You know it has to be an authentic BBQ joint when there is a pig waiting for you at the door.
And, speaking of pigs… how about full service catering and on-site pig roasts? Their menu here says "All meats are hickory smoked anywhere from 5-12 hours" — and you could tell, yum. This was definitely not your typical chain BBQ place.
MashupDad went for the full slab of ribs, which came with two sides of his choice. The baked beans, alas, turned out to be unexceptional and somewhat bland, but the ribs were fantastic. They featured a smokey, not-too-sweet sauce, and were falling off the bone good. You know it's going to be good when you have the piece of bread down there to soak up the grease, lol — and when the napkins at your table turn out to be a roll of paper towels!
I was slightly jealous of his meal, until they brought out my blue cheese burger. Surprisingly, this was also topped with green olives — which I wouldn't have thought to add to a blue cheese burger, but which added a perfect salty tang. It would be a tough choice between this and the ribs next time! The fries were also very good, although slightly too salty — which probably depends on how heavy a hand they had on any given day.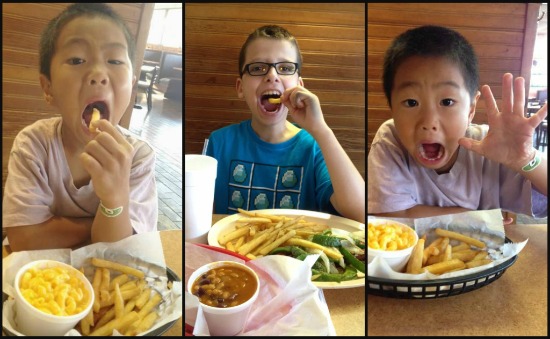 Both kids also went with fries on the side. Mr. 6 chose the macaroni & cheese kid's meal (hey, he's six, what do you expect?), so is all carbs, all the time.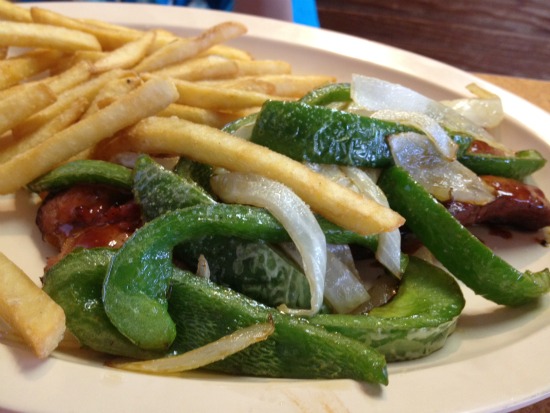 But, Junior High "I love spicy food" Guy got more adventurous and opted for the Cajun links. The links themselves, he thought were fantastic, but he wasn't a huge fan of the peppers. That's more of a junior high guy preference than any comment on their quality, however, because this was a well balanced spicy sausage and peppers combo.
We will definitely be back to Salt Creek Barbecue. Check them out for yourself, the next time you're in the Glendale Heights area!
About Restaurant.com
Restaurant.com is the trusted and valued source connecting restaurants and diners nationwide.  The company offers savings at thousands of restaurants nationwide with more than 50,000 gift certificate options.  Restaurant.com brings people together to relax, converse and enjoy well-prepared and -served meals at affordable prices.  To date, Restaurant.com customers have saved more than $1 billion through the gift certificate program. Restaurant.com has operated since 1999 and is based in Arlington Heights, Ill.