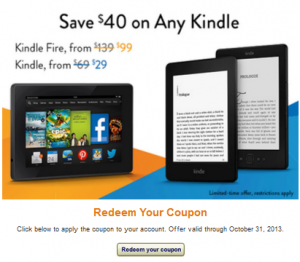 Photo credit Time2Save
SOME people (not me! lol) with are being offered anywhere from $20-$60 off a Kindle on the Amazon homepage.
Update — not just Prime members — but still seems totally random.
Jessica just commented she got the $60 offer, which makes the basic Kindle with offers just $9.00. See if the offer pops up for you on Amazon — again, it's random and may be based on browsing/purchasing history. Here's hoping some of you are lucky and get it!
(Thanks, Jessica and Time 2 Save)