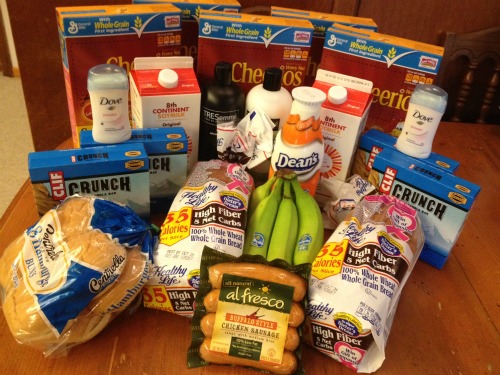 Stopped by Ultra Foods this morning — I figured Thursday morning was a good idea, before they sell out of some of these deals. If you are looking for the Clif bars, after being directed to a couple of different places in the store, at Lombard they are at the end of the first aisle on a cardboard display and nowhere in the regular aisles, since they don't usually carry them. Tomorrow or Saturday I'll stop by ALDI and Pete's for produce, because you can't live on Cheerios and Clif bars. Well, not forever.

5 boxes Honey Nut Cheerios, $9.40. Used five $1.00/1 printables (no longer available).
4 boxes Clif bars, $7.52. Used four $1.00/1 from the Aug. AY and from a friend.
2 8th Continent soy milk, $5.58. Used two $1.00/1 printables here.
Dean's half & half, $2.19.
2 TRESemme, $5.00. Used two $2.50/1 in the 9/29 RP.
2 Dove deodorant, $1.96. Used two $1.00/1 in the 9/29 RP.
2 Healthy Life low carb bread, $3.33. Used two $.35/1 in the 9/29 RP.
Hamburger buns, $.99.
al fresco chicken sausage, $3.00. Used $2.00 printable from signing up for their newsletter.
Bananas, $.83.
Used a $3.00 Catalina from buying Kraft cheese last week, and paid $17.24. Net cost: $20.24. This started out over $40 — does it look like $40 worth of stuff to you? I can't tell anymore, lol.