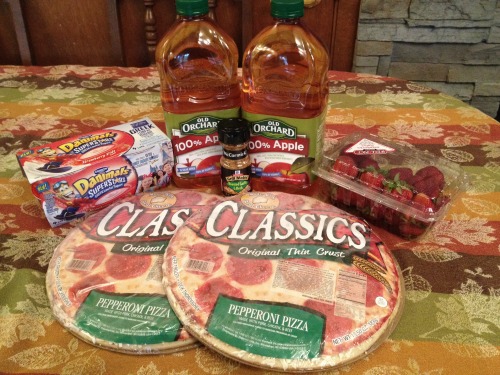 I just realized that Target has been so much fun, I forgot to pick up cheap apple juice at Ultra Foods so far this week. Well, we had to remedy THAT situation…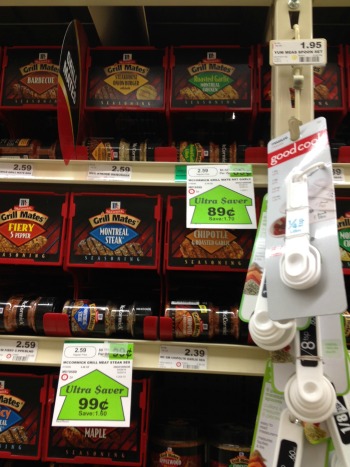 Cari had mentioned on Facebook finding cheap McCormick Grill Mates at her store. At the Lombard location, Roasted Garlic Montreal was $.89 — so just $.14 after the $.75/1 coupon in the 4/6 RP. A couple of other flavors were tagged $.99, but most were not on sale.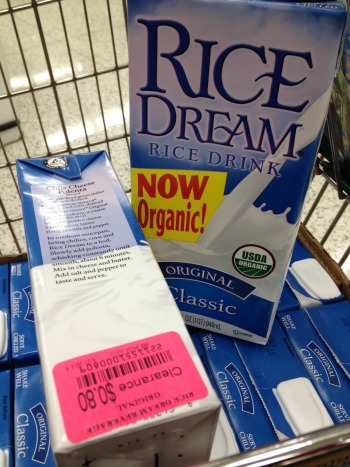 They also had a clearance cart with a big box of 32 oz organic Rice Dream clearanced at $.80 (all exp. 5/6). Junior High Guy is not a fan of the rice kind, so I left it all for one of you to scoop up. 🙂
What I did get
2 Palermo's classic pizzas, $2.96. Used $1.00/2 from the Palermo's site to get them for $.98 each.
Strawberries, $1.50.
McCormick GrillMates, $.89. Used $.75/1 from the 4/6 RP.
2 Old Orchard apple juice, $1.96. Used $1.00/2 from the 4/6 SS.
Danimals Superstars Greek yogurt cups, $2.00. Used $1.00/1 printable coupon (no longer available).
Got $.05 off for bringing my own bag. Paid $5.67.