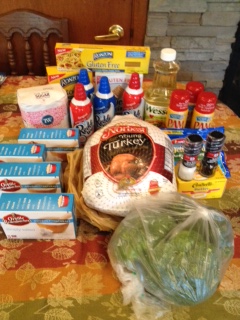 I went to Ultra this morning with full intention of price matching Jewel's Jennie-O turkey price, but my crafty plot was foiled when… I couldn't find any Jennie-O, lol. So, I went with Norbest at a penny a pound less. Never tried Norbest, but why not, eh? Yeah, I'm spending more than usual this week, but… holiday deals! And it all evens out.

So what's all this?
Centrella butter quarters, $1.38 with in-ad coupon.
3 Pam, $5.64 after instant savings. Used two $.30/1 in the 10/13 SS and a $1.00/1 printable here.
Broccoli crowns, $1.24.
Wesson oil, $1.88 after instant savings.
TW sugar, $.98 with a coupon that came in the mail.
4 Reddi-wip, $5.52. Used four $.25/1 from the 11/10 SS.
Land O' Lakes turkey, $1.59. Used $.55/1 printable here.
2 McCormick grinders, $3.38. Used exp. $1.75/2 in the 10/6 RP.
4 Orville Natural popcorn, $5.52. Used four $.75/1 in the 10/27 SS.
2 Ronzoni gluten free pasta, $3.33. Used two $1.00/1 printables.
Nabisco gluten free Rice thins, $1.88. Used $.75/1 printable.
Norbest turkey, $7.56.
Paid $30.36. Ultra: A zoo today! Be forewarned.

Oh and the Orville Naturals with salt and no butter? Appear to be dairy free!