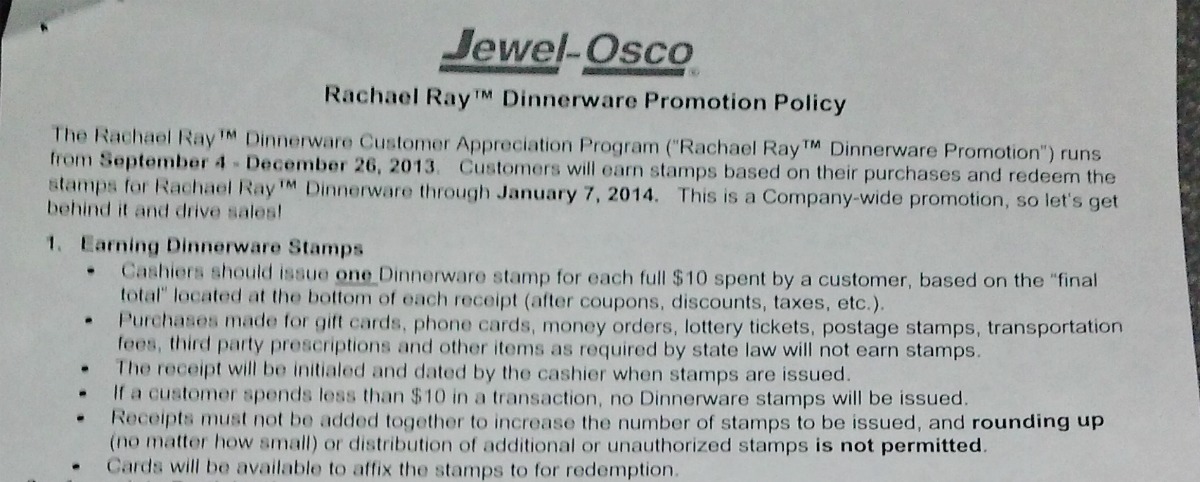 Update — the Rachael Ray dinnerware stamps at Jewel are generating on pre-coupon purchases. Carry on!
——————————————————————————————————————————————-
Update nevermind! lol — But, Amy comments: "Stamps are based n before coupons. This morning I purchased $120 worth of stuff and paid $47 after coupons and savings. I got 12 coupons. FYI"
And Sheri comments: "Went this morning for the Puffs and Febreeze which didn't work, but they adjusted manually and total was $21.xx and after coupons my total was $3.xx (bought Cheetos too). On the bottom of the receipt it said I should get 2 stamps but I was in a hurry and didn't pay attention until after I left, so may go back to get them. So according to the receipt it is pre-coupons."
——————————————————————————————————————–
Click on the image above to get a more readable larger version. This is the official Rachael Ray Dinnerware promotion policy that was given to Jewel stores. I'm kind of unpleased about the part that reads:
Cashiers should issue one Dinnerware stamp for each full $10 spent by a customer, based on the "final total" located at the bottom of each receipt (after coupons, discounts, taxes, etc.).
If it is indeed after coupons, this is no deal at all, lol. How's it shaking out for you in stores this morning? Here, again, is the promo: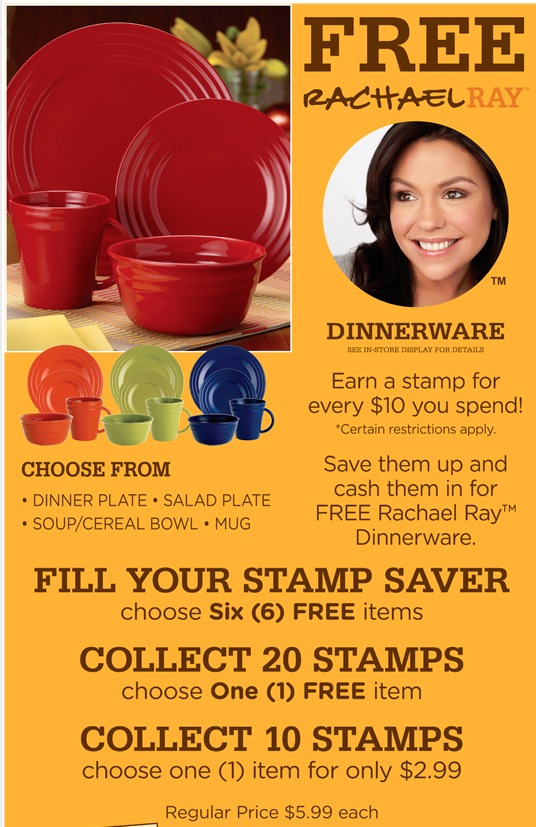 Earn a stamp for every $10 you spend. Fill your stamp saver, get six free items. Collect 20 stamps, choose one free item. Collect 10 stamps, get an item for $2.99. Hey, $200 gets you a plate! lol Regular price $5.99 each. Choose from dinner plate, salad plate, soup/cereal bowl, or mug.