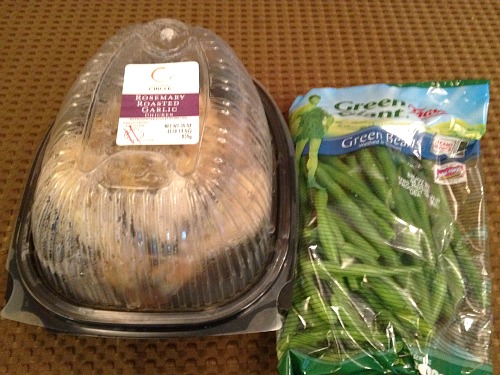 MashupDad is out tonight, and I didn't feel like cooking dinner for me and the kids. So, after the coupons in the Big Book of Savings ad at Jewel ($3.00 off rotisserie chicken and $1.00 off Green Giant bagged veggies), this came to $5.61. With some leftover potatoes, boom: Dinner!
and by the way? These are SCRAWNY chickens — they usually sell for $6.99, which is nuts. It smells good, though.
I also stopped by Dominick's — all my frozens were melting, so no pic. But I got the cheap Kraft cheese, the free Imagine soup, and for the $5/$15 frozen food store coupon I did 6 Eggo for $12.00 (used three $1.00/2 from the 8/4 RP), one $2.99 Van's waffles (used $1.00/1 printable), and one $2.50 Edy's Outshine bars (used $1.00/1 printable). I also got Horizon organic milk for my "free milk when you buy four Kellogg's" JFU offer, and it did NOT come off, so check those receipts.
What are you using your $5/$15 on?