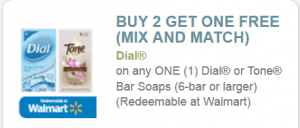 Got soap? Print yourself two of these buy two get one free Dial 6 pack+ bar soap coupons, and hie thee over to a Walgreens:
Through 10/12, Dial bar soap eight packs are BOGO at $4.99.
Buy six for $14.97.
Use two buy two get one free coupons — note that the coupon only goes up to $3.99, so this will take off $7.98.
Now you're at $6.99 for all six packs.
That's just 14.5 cents per bar!
(Thanks, Wild for Wags)