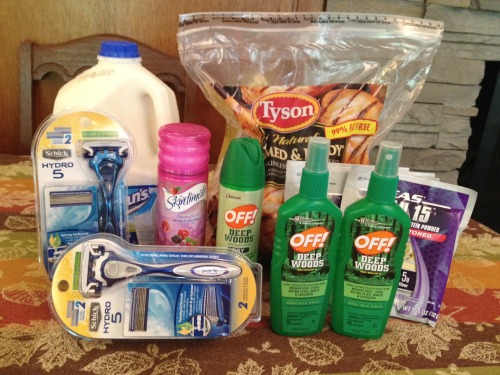 This morning Mr. 7 and I woke up before anyone else, so we went to CVS and then to Target. Target is soooo peaceful right after they open on a Sunday morning! lol
CVS
Skintimate, $3.79. Used $.55/1 from the June AY.
2 Schick Hydro 5 razors, $23.98. Used two $4.00/1 from the 6/8 SS. Also used a $5/$20 shaving stuff coupon from the magic machine.
Dean's milk, $2.99.
Used a 20% off coupon that came in email and $11 in ECB. Paid $1.92. Got back $10 in ECB for Schick. That's a net cost of $2.92, but I'll get $.75 back from Ibotta ($.25 for the milk and $.50 for the complete three rebates by Sunday get $.50 bonus) to drop that down to a net cost of $2.17.
Target
I did the OFF deal I told you about here, but found a new $2.00/1 Deep Woods OFF coupon to make that even better!
4 EAS powder packets, $5.16. Used four $3.00/1 coupons. (There is a $3.00/1 EAS powder here and also in the 5/11 SS — they scan beeplessly for overage, though YMMV and they may adjust them down.)
Deep Woods OFF dry, $5.59. Used $2.00/1 printable. Got 10% off with Cartwheel.
2 Deep Woods OFF sprays, $10.98. Used two $2.00/1 printables and the $1.00/2 Target printable here. Got 10% off with Cartwheel.
36 oz bag of Tyson boneless skinless trimmed & ready chicken breast, $6.00. Used $1.00/1 Target coupon from the summer savings booklet and $1.00/1 manufacturer coupon. (Print $1.00/1 bag Tyson trimmed & ready frozen boneless skinless chicken breast (ZIP 19606 then reload). Or, print $1.00/1 Tyson boneless skinless chicken breast manufacturer coupon on the Target site.)
Paid $5.99. With my REDcard and it didn't take my 5% off — what's up with that?? Got back a $5.00 gift card for the OFF, for a net cost of $.99. So for the day my out of pocket cost in cash was $7.91, and my net cost after gift card, ECB, and Ibotta = $3.16.