As part of a sponsored post for Collective Bias®, a mom friend and I visited the Vero Cafe at the Elmhurst Mariano's last week. All opinions in this post are my own.

Last week, I stopped by the Vero Cafe inside the Elmhurst Mariano's to catch up with my friend Kristy. I hadn't seen her all summer because we were both so busy with kids, work, and various activities, so this was a great opportunity for a quick mid-day coffee break — and then a productive grocery shopping trip afterwards! It was lovely to catch up, but even better to catch up over coffee and gelato, now that the kids are back in school and we had a bit of free time to meet during the day.
Say hi to Kristy! Who I think would rather be enjoying this Vero gelato and coffee than having her picture taken — and can you blame her?

What I also liked about the cafe, though, was the design around these live plantings in the middle. You could feel like you were really getting away, not that you were sitting in the middle of your typical grocery store.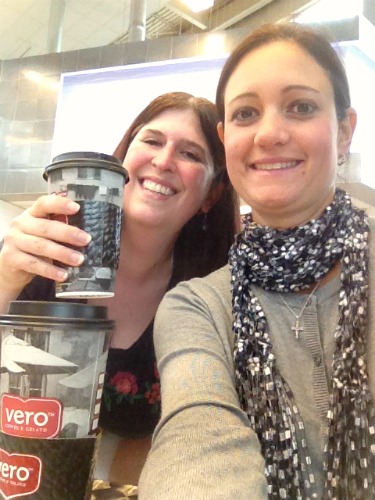 Kristy went with the standard cup of coffee, and I went with a mocha, because how often do you treat yourself? Lots of Vero coffee choices at the cafe!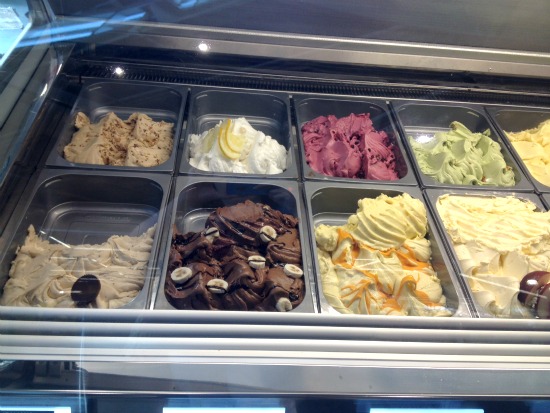 And, the gelato? Opera Italiano, and one of the neat things about the Vero Gelato Bar was the variety of unique offerings it sported. Opera Italiano mixes five different kinds of nuts — from pine nuts to hazelnut to pistachio — in a differently delicious blend of flavors, and I'd highly recommend it.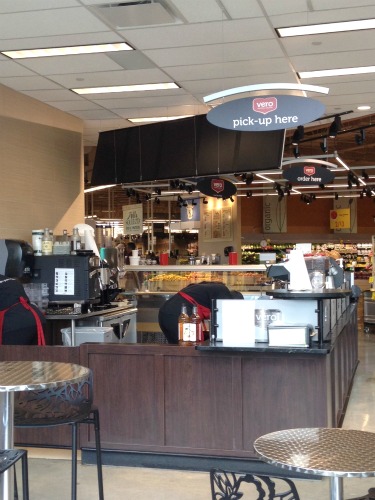 The cafe is right up at the front of the store, so it's easy to meet for a quick, yet relaxing bite or drink and then grab a cart to shop afterwards. While it's great to have a laid-back chat with a mom friend, it's also good to be able to shop right after, without making yet another stop.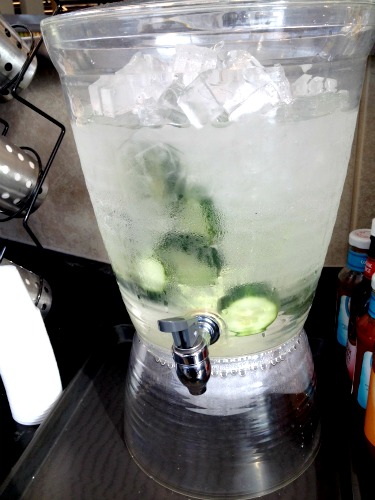 And one thing we both appreciated was the attention to small details throughout both the cafe and the rest of the store, down to this refreshing cucumber ice water dispenser over by the condiments.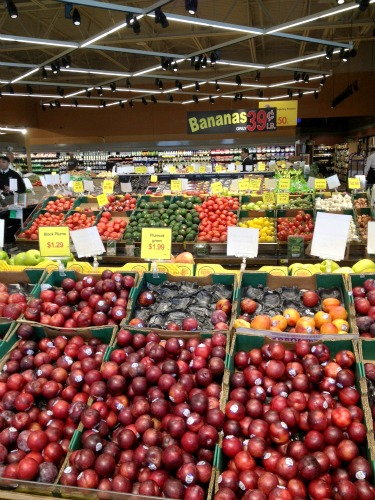 Everything at #MyMarianos works together to create a harmonious and inviting dining and shopping experience, from these little details at the cafe and throughout the store, to freshly made samples, to artfully arranged produce.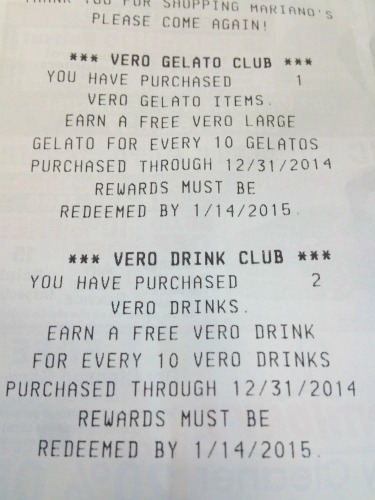 And, in addition to the Mariano's reward card which gives you $ back on your everyday shopping, the Vero Cafe has its own rewards. Buy ten gelatos, get one free, and buy 10 drinks, get one free. The helpful barista also told me that you can even get the tiny kid-sized gelatos to add up to your ten (this one ran $1.09 with tax, and was plenty!) — and then redeem for a large one. Sounds good to me!
Mariano's also has a sense of humor
Speaking of creating a shopping experience, how about this most awesome video of a recent Mariano's Opera Flash Mob! Want more Marianos? Check them out on twitter, on Facebook, and at the Mariano's community, which offers new weekly content and ideas.