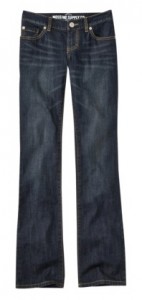 Note — if these are the same as the junior jeans that have previously been on the daily deals, they run small, and you might want to go a size up. So here's the dealio!
So, here's the deal:
Buy eight pairs of jeans at BOGO at $22.99 = $91.96.
Get $7 off with code 37AVVQYP = $84.96.
Get back a $15 Target gift card for a net cost of $69.96 for eight pairs of jeans, or just $8.75 a pair!
(Thanks, The Coupon Project)