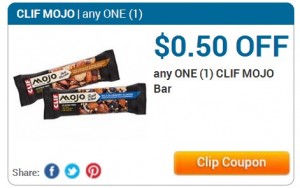 Krystle noticed that Mambo Sprouts just added some new manufacturer coupons, including $.50/1 Clif Mojo bar. Stack this one with the $.50/1 Whole Foods coupon in this month's Whole Deal or print online to get some varieties free. (Some are regularly priced $.99 and some $1.49, so be sure to check shelf tags and grab the $.99 ones.)
Other new coupons include $1.00/1 any Organic Valley product. Gallons of milk are $5.99 at Pete's Market this week, so $4.99 after coupon. This prints with no size restrictions, so also maybe free milk singles?
They have $1.00/1 any Half Time or Applegate product. Stack at Target with the 20% off Applegate Half Time Cartwheel offer.
Check it out and see what else you can use.