Here are the TOP Meijer deals and coupon matchups for the week of 10/24/13 from the sneak peek online ad for the Bolingbrook (Boughton) location. Please share YOUR deals in comments here. What are you buying? What do you spot in store? Let's help each other out.
—————————————————————————————————
Here are the top Chicago Meijer deals I see for the week of 10/24/13 – 10/30/13.
(Note: Smaller neighborhood grocery Chicago Meijers such as Niles, Melrose Park, Berwyn, and Orland Park, go off a different ad than other Chicagoland Meijers, so some of your deals may differ from those shown here. Please verify in your own ad. Other states, Northwest Indiana, and downstate IL are on the Sunday-Thursday ad schedule, so sales there start the Sunday before the Thursday they start in Chicagoland in IL.)
Top Meijer deals week of 10/24/13
10 varieties of Michigan apples, $.59/lb.
Bananas, $.37/lb.
Watermelon chunks, $1.49/lb.
3lb tangerines, $2.00.
Boneless skinless chicken breast family pack, $1.99/lb.
Cracker barrel chunks, $2.50. Print $1.00/1 here (ZIP 03103 then reload).
Michelina's, $.88. Print $1.00/5 here.
Meijer mac & cheese, $.50.
Betty Crocker mac & cheese, $.89. Use $.25/1 in the 10/20 SS.
Gatorade, $.79.
V8 Splash, $1.69. Use $.50/2 in the 9/22 SS.
Barilla pasta, $1.00. Use $.55/2 in the 9/8 SS.
Campbell's chunky soup, 4/$5.00. Use $1.00/4 in the 9/8 or 10/6 SS OR the $2.00/4 mPerks manufacturer coupon (enter code CAMPBELLSAVE to unlock). 4 for $3.00 after mPerks, or $.75 each.
Cool Whip, $.99. Oh hey! Jell-O is 5/$3.00 ($.60 each) and there is a $1.50 off both in the Nov. AY. So $.09 for BOTH after coupon. If you would rather just have Cool Whip, there is a $.50/2 mPerks manufacturer coupon to clip.
Heluva Good dip, $.99.
Halloween tees $4-$6.
Falls Creek kids puffer jackets, $20.
Birds Eye recipe ready, 3/$5.00. Use $1.00/1 in the 9/22 SS.
InnovAsian entrees, $3.99. Print $1.50/1 here (ZIP 30303, then reload).
Minute Maid OJ, $2.49. Clip $.25/1 on mPerks.
Dozen eggs, $1.29.
Free Suave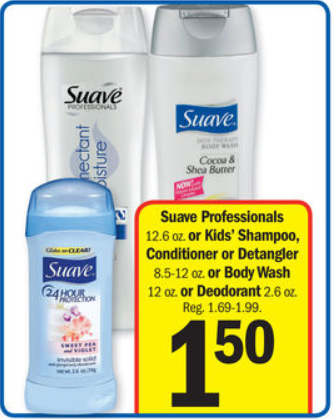 Suave Professionals, $1.50. Use the $1.50/1 in the 9/29 RP to get it Free. Coupon expires 10/27!
Eckrich instant savings dealio
Buy five save $5 instantly. Prices here after instant. Limit 2 offers per transaction.
Eckrich 2 piece smoked sausage, links, grillers, $1.49. Use $.55/1 in the 8/25 RP or print $.55/1 on Facebook. Now you're at just $.94!
John Morrell 12 oz bacon, $1.99.
Curly's smoked sausage, $1.99.
Eckrich meat or cheese franks, bologna, cotto salami 12-16 oz, $.79.
Armour lunch makers, $.79. Use $.50/3 in the 10/6 RP.
Halloween candy deal — a buck a bag!
Stack your mPerks store coupon with manufacturer coupons for cheap Halloween candy! Details here.
Halloween event 10/26
This came in my email for my local store — check yours? Halloween at Meijer, Saturday 10/26 from 11AM-2PM. Treats, giveaways, more.
Two day sale 10/25-10/26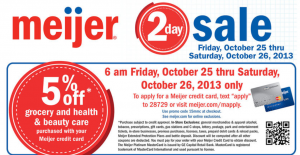 Meijer is also having a two day sale this Friday and Saturday 10/25-10/26. If you have a Meijer credit card, get 5% off grocery, health, and beauty, and 15% off general merchandise and apparel, when you pay with your card 10/25-10/26 only.
Fritos or Cheetos, BOGO
Aunt Millie's homestyle bread, $.99.
15-18 oz Jif, $1.49.
Cottonelle Ultra or Clean Care Bath Tissue 6 double rolls, or Viva Paper Towels 2 big rolls, 50% off. Reg. $3.99 – $4.99.
Meijer ice cream or Purple Cow limited edition ice cream, $1.99.
Tyson bagged chicken, $2.99. $.75/1 fun nuggets in the 8/18 SS.
Kraft mac & cheese or Velveeta shells & cheese cups, $.69.
Stacy's pita chips or Sabra hummus, BOGO.
Suave naturals shampoo or conditioner, $.50.
50 oz Era, 2/$5.00 limit four. Use $2.00/2 in the 9/15 RP.
Dial hand soap, $1.00.
Shoes and boots, buy one get one for $1.00, excludes clearance and team sports.