Here are the best Meijer deals and coupon matchups I see for the week of 1/9/14, using the online ad for the Bolingbook IL (Boughton Rd.) location.
(Note: Smaller neighborhood grocery Chicago Meijers such as Niles, Melrose Park, Berwyn, and Orland Park, go off a different ad than other Chicagoland Meijers, so some of your deals may differ from those shown here. Please verify in your own ad. Other states, Northwest Indiana, and downstate IL are on the Sunday-Thursday ad schedule, so sales there start the Sunday before the Thursday they start in Chicagoland in IL.)
Top Meijer deals week of  1/9/14

A couple of scenarios for the spend $10 save $2.00 instantly Special K deal
*** Note — the Special K protein bars picture in Checkout 51 pictures meal bars, but the wording just says protein bars. I have an email in to them to double check whether the snack bars count for sure. If not, each of these scenarios is $2.00 more. I'll update when they get back to me. Alas, they say it's only the meal bars 🙁
Or
Buy four Special K protein bars for $10.00.
Get $2.00 off instantly = $8.00.
Use four $1.00/1 printables = $4.00 (will need two computers).
Kraft instant savings deal
Buy eight participating mix/match products, save $8.00 instantly. Prices shown here are after instant. Limit two offers per transaction.
Kraft 16 oz salad dressing, $.97.
Kraft 22-30 oz mayo or Miracle Whip, $1.99.
Kraft natural cheese slices or american singles, $1.49.
Philadelphia cream cheese, $.99.
Maxwell House or Yuban small cans, $1.99.
Crystal Light, $.99. Use $1.00/2 in the 1/5 SS3 to get them for just $.49.
Jell-O refrigerated Gelatin, Mousse, Pudding, or Temptations, $.99.
Velveeta shells & cheese or deluxe mac & cheese, $1.19.
MiO or Crystal Light liquid, $1.99.
Oscar Mayer bacon, $3.99.
Oscar Mayer meat franks, bologna, or Cotto salami 14-16 oz, $.99.
Fun Pack Lunchables, $.99.
Claussen pickles, $1.99.
Oscar Mayer deli fresh or selects, $1.99. $1.00/2 Oscar Mayer Deli Fresh lunch meat.
Special K instant savings deal

Get $2.00 off instantly when you buy $10 in Special K items limit one offer per transaction.
Stack with the Special K cash back offers on Checkout 51!
OK! Here are a couple scenarios:
Or
Little P&G Catalina

Get $8.00 OYNO when you buy 30+ Charmin 36 double roll or 18 mega roll, Bounty 12 giant roll, or Puffs 3 or 4 packs. Check your 12/29 PG for coupons.
Johnson & Johnson Catalina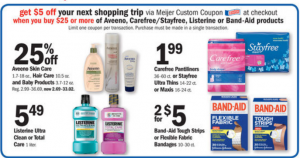 Get $5.00 OYNO when you buy $25+ Aveeno, Carefree, Stayfree, Listerine, Band-Aid. Check your 1/5 SS2, Healthy Essentials for coupons.
Weekly deals
Dairy & refrigerated
Tropicana Pure Premium, $2.50. Print $1.00/1 here and get it for just $1.50.
24 oz Meijer cottage cheese, $2.00.
Babybel cheese, $3.50. Print $1.00/1 here.
Alouette spreadable cheese, $3.00. Use $1.00/1 in the 11/17 RP or print $1.00/1 here (ZIP 19606 then reload).
1 lb Challenge butter quarters (also pictures tub), $2.50. Print $1.00/1 here (ZIP 50010 then reload). And print $1.00/1 here. And print $.55/1 here. As low as just $1.50 after coupon.
Kraft shredded cheese, $2.00.
32 oz Coffee-Mate, $3.00. Print BOGO on Facebook. Print $1.25/2 here. And print $.55/1 and $.75/2 here.
Yoplait Greek yogurt cups, $1.00.  Use $1.00/5 in the 1/5 SS3, or print $1.00/3 here, or print $1.00/5 here. Stack with the $1.00/5 Target store coupon here.
Deli & prepared foods
8 pc bucket fried chicken or 10 pc dark meat, $5.99.
Frozen
Lean Cuisine or Stouffers entrees, 5/$10.00 and buy ten get two free (excludes LC honestly good). Use $1.00/5 in the 1/5 SS1 to get 12 Lean Cuisine for $18.00 after two coupons + frees, or $1.50 each.
Birds Eye veggies, $1.00.
Grocery
Meijer Naturals tomatoes or diced with green chiles, $.79.
33-36 oz Eight O Clock coffee, $9.99.
Capri Sun, 3/$5.00. Print $1.50/2 here (ZIP 02020 then reload).
Green Giant canned veggies, $.89.
Creamette pasta, $1.00.
StarKist chunk light tuna cans, 4 for $3.00.
Meijer tortilla chips, $1.99.
Lay's potato chips, BOGO.
Meat & seafood
Meijer boneless skinless chicken breast, $1.99/lb.
Meijer ground beef from chuck, $2.99/lb.
Boneless center cut pork loin chops family pack, $2.99/lb.
Meijer family pack bone in chicken thighs, $1.19/lb.
Beef chuckeye roasts or family pack steaks, $3.79/lb.
12 oz Meijer bacon, $3.00.
Johnsonville sausage links or patties or Odom's sausage roll, $2.69.
Eckrich smoked sausage, grillers, or links, $2.00. Print $.55/1 on Facebook.
Land O' Frost premium or minis, $3.00. Use $1.00/1 minis in the 12/15 RP (exp. 1/15). Print $1.00/1 minis here (ZIP 19606 then reload).
Louis Kemp 8 oz mock crab or lobster, $1.50.
Not food
150 oz liquid Tide, $17.99, but get $3.00 off instantly when you buy one, limit one per transaction. So, um, $14.99 limit 1. Use $1.50/1 in the 12/29 PG.
12 double roll Angel Soft, $5.49. Use $1.00/1 Angel Soft in the 1/5 RP2.
Purex 75 oz liquid or 26 ct packs, $2.99.
12 roll Scott 1000 sheet, $7.99.
Hefty foam plates, $1.50. Use $1.00/2 in the 11/10 RP.
20 ct Finish powerball tabs or gelpacs, $3.49. Use $2.15/1 in the 1/5 SS3.
64 oz Meijer bleach, $1.50.
35 lb Meijer Main Choice scoop cat litter, $9.99.
Meijer single pack suet cakes, $1.00.
Produce
3 lb Michigan Red Delicious, Jonathan, or McIntosh apples, $2.50.
5 lb russet potatoes, $2.00.
5 lb organic russet potatoes, $2.50.
5 lb clementines, $4.99.
California large Cara Cara oranges, $.50 each.
California large blood oranges, 5 for $2.00.
10 lb red grapefruit, $4.99.
Cherries, $2.99/lb.
450 ml Bolthouse Farms juice, BOGO.