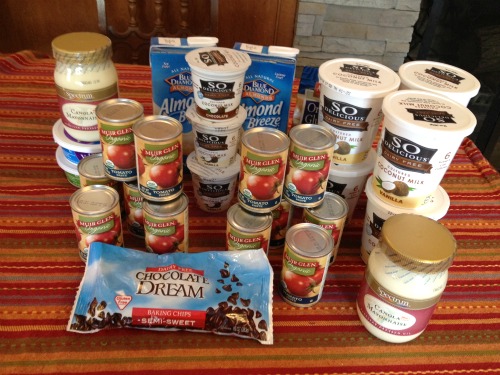 I don't visit Whole Foods as often as I should — it's just not close like my other stores, and I never feel like driving for one or two deals. Today, though, I thought about that $15/$50 you get for turning in your Dominick's card, and put this together. (Note: They just take off the $15 at the register when you hand over the Dominick's card, as long as your order is over $50, you don't need to go to customer service.)
The little So Delicious yogurts were tagged $1.99, but rang up $1.39! I got the last three chocolate & vanilla of those, since Dairy Free Junior High Guy doesn't like "fruity" yogurt. The larger containers were $2.50.
The Muir Glen has gone up! The paste was $1.39 and the sauce was $1.19.
Several varieties of shelf stable Almond Breeze are $1.69. Stack the $1.00/2 Whole Foods printable or in this month's Whole Deal with the $1.00/2 on Mambo Sprouts and they're $.69 each. Warning — Mambo is now that annoying Java-based Qples printing and is no longer using Coupons.com. 🙁
All my Whole Foods coupons (except for the Nov/Dec ones) are printable here or in this month's Whole Deal at the entrance.
$2.19 at Whole Foods shopping ($1.43 was tax!)
Dream non-dairy chocolate chips, $5.19. Used $2.00/1 manufacturer printable (no longer available) and $1.00/1 Whole Foods coupon.
2 Spectrum mayo, $7.98. Used two $3.00/1 from the Nov/Dec Whole Deal and two $3.00/1 printables.
Arrowhead Mills organic gluten free pancake/baking mix, $4.99. Used $1.00/1 Whole Foods coupon and $.55/1 manufacturer coupon from … I have no idea, found it in my stash.
2 Go Veggie nondairy 'cream cheese,' $6.78. Used two $1.00/1 Whole Foods coupons and two $1.00/1 manufacturer printables.
3 small So Delicious yogurt cups, $4.17. Used $1.00/3 Whole Foods coupon and three $1.00/1 from the 1/5 SS2 (not in Tribune).
6 large So Delicious yogurts, $15.00. Used two $1.00/3 Whole Foods coupons and six $1.00/1 from the 1/5 SS2 (not in Tribune).
12 Muir Glen organic tomato paste, $15.01 after 10% off case discount. Used six $1.00/2 Whole Foods coupons and 12 $.50/1 Muir Glen (ZIP 02020 then reload).
2 Blue Diamond shelf stable 32 oz Almond Breeze, $3.38. Used $1.00/2 Whole Foods coupon and $1.00/2 printable.
Got $15 off for giving them my Dominick's card. Paid $2.19. This was a crazy $63.93 before any coupons — does that look like $64 worth of stuff to you?! Using coupons there is a pain because just about everything has to be keyed in manually and requires manager override, but they are super nice about it — and, it's worth it!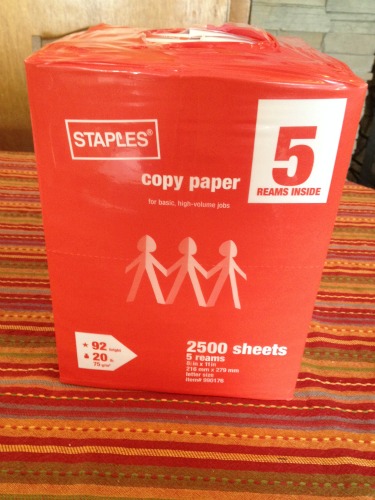 Then I ran into Staples on the way home and picked up this 5-ream block of Staples copy paper. With tax + this printable Staples coupon, it came to $22.73, and I'll get back $21.00 on a Visa gift card via Staples Easy Rebate to make that a net cost of $1.73.