Been all over today — thought I would check out the whole Mariano's double coupons thing, so swung through Target and Jewel quickly on the way there. Then traffic was awful on the way back, oh my. Got a bunch of stuff at Mariano's — now all I really need this week is garlic and onions, which I'll swing by Pete's for another time when I'm headed that way.
Jewel
Turns out Planters peanuts are a Monopoly bonus item — I got seven tickets for this little trip, lol.
5 Planters peanuts, $9.95 after instant savings. Used five $1.00/1 printables (no longer available).
Zantac, $7.98. Used $4.00/1 in the 3/23 SS and will send in for the try me free mail-in rebate here — the rebate form doesn't say they will redeem after coupon, so it should be a money maker. Or not — the fine print on the form excludes Jewel after 3/25. Oh well, now I have $4.00 Zantac, whee.
Cascadian Farm granola bars, $1.00 on the clearance cart. Will post-redeem the $.85/1 printable here.
Paid $10.52. Will get back $.85 for the Cascadian Farm coupon and hopefully the full $7.98 for the Zantac rebate.
Target
Seventh Generation dish liquid, $3.19. Used $1.00/1 manufacturer coupon here, $1.00/1 Target coupon here, and 10% off on Cartwheel (took off $.22). Already got $1.00 back from Ibotta, so this was… free. Good thing, cause it fell over and leaked in the bag. 🙂
Strawberries, $1.79. Used $1.00/1 fresh fruit mobile coupon (text THANKS or SPRING to 827438) and 5% off on Cartwheel.
2 Bob's Red Mill brown rice flour, $5.02. Used two $1.00/1 printables here.
Reynolds Parchment paper, $3.15 (part of the 20% off food storage promo I told you about yesterday). Used $1.00/1 Target store coupon here and $1.00/1 manufacturer coupon here.
2 Garnier Olia hair color, $17.98. Used two $3.00/1 in the 3/2 RP and two $1.50/1 Target coupons here.
Paid with a $5.00 gift card and $10.97. Got back a $5.00 gift card for Garnier Olia and $1.00 back from Ibotta for Seventh Generation for a net cost of $9.97. Never tried Olia before, but need to do something, like… tonight! lol — so for $2.00 a box I figured it was worth a try.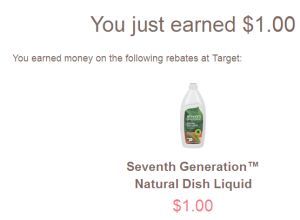 (Thanks to FabuLESS Life for the Seventh Generation deal)
Crazy Mariano's shopping
I haven't seen Udi's this cheap in quite a while, so bought eight loaves of bread for Junior High Guy with the $1.50/1 coupon I told you about yesterday. Also: Bananas were $.39 a pound, which makes Mariano's a good place to use the 20% back on SavingStar this week. The Muir Glen organic tomatoes had the same $1.00/2 peelies I saw at Whole Foods last week and are $1.75 each, so $1.25 after peelie or just $.75 on Double Daze. The Applegate 7 oz lunch meat was $3.00, which is a great price — I didn't have coupons with me, boo, but there is a $1.00/1 printable here to make it $2.00, or just $1.00 on Double Daze.
8 loaves Udi's gluten free bread, $28.00. Used eight $1.50/1 printables here.
4 cans 28 oz Muir Glen organic tomatoes, $7.00. Used two $1.00/2 peelies, which doubled to take $4.00 off.
2 Applegate Farms lunch meat, $6.00.
Half a dozen bagels, $3.90.
Bananas, $.75. Should get a whopping $.15 back from SavingStar, lol.
Cauliflower, $2.48.
Portobello mushrooms, $4.88.
Spinach, $3.99.
2 Coffee-Mate 32 oz creamers, $5.00. Used two $1.00/1 coupons from Facebook, which doubled, for a total of $4.00 off.
2 NatureSweet Sunburst tomatoes, $2.50. Used two $.75/1 tearpad coupons, one of which doubled to $1.25.
Got $.10 off for bringing my own bags. Paid $43.45.