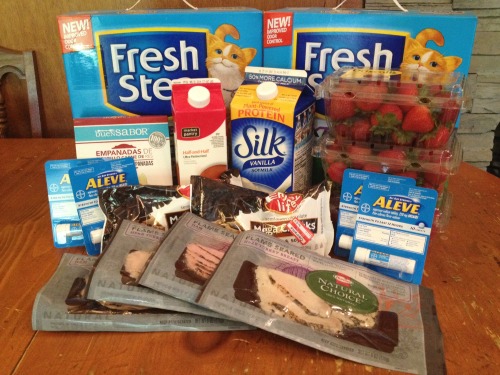 I took a quick trip over to the Hillside Target today, and here's what's what.
First, check the Fresh Step 25 lb scoopable cat litter for $1.50/1 manufacturer peelies. If you find them, here's the deal:
Buy two for $21.98.
Use two $2.00/1 Target store coupons from the 6/29 SS = $17.98.
Load 5% off on Cartwheel (takes off $.90) = $17.08.
Use two $1.50/1 peelies = $14.08.
Get back a $5.00 Target gift card through 7/5 for a net cost of $9.08 for two, or just $4.54 each.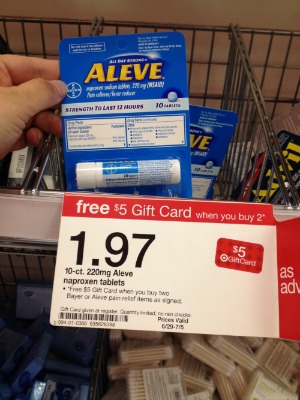 Then, I did see the Aleve deal Ashley shared earlier. 10 ct Aleve tablets in the travel section are tagged $1.97, get a $5.00 gift card when you buy two. I bought four and left some for whomever else would like to try, but the gift cards are not triggering. I showed this photo to the nice CS people at Hillside, who manually generated $10 in gift cards for me, but I'd guess Target may be pulling these tags. (Note: Had they argued the point I just would have returned the products — it's not worth jeopardizing a good relationship with the store for a couple of bucks.)
What I bought
4 Hormel flame seared Natural Choice lunch meat, $17.96. Got 50% off with Cartwheel and used four $.50/1 coupons in the 5/11 SS or printable here.
3 Driscoll's strawberries, $5.37. Got 5% off with Cartwheel (took off $.27) and used three $1.00/1 survey coupons.
Buen Sabor empanadas, $3.99. Used the $2.50/1 printable here (must complete activities to unlock) and will get $4.00 back from Ibotta.
Silk soy milk, $3.29. Used $1.00/1 manufacturer printable (no longer available) + the $1.00/1 Target printable here.
Market Pantry half & half, $1.89. Used 5% off on Cartwheel (took off $.10).
2 clearance Enjoy Life dairy free mega chocolate chunks, $4.68.
Four Aleve, $7.88.
2 Fresh Step cat litter, $21.98. Used two $1.50/1 peelies, two $2.00/1 Target store coupons from the 6/29 SS, and 5% off on Cartwheel (took off $.90).
Paid with my REDcard for another $1.76 off, for a total of $40.31. Got back $15.00 in gift cards ($5.00 for cat litter and $10 for Aleve at customer service — see above). Will get back another $4.00 from Ibotta, for a net cost of $21.31.