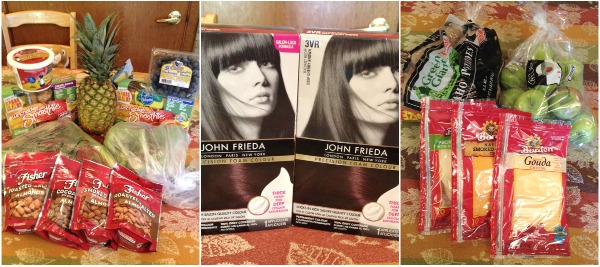 I had to drive around hither and yon on various errands today, so figured I'd stop into the stores I was by anyway. Like: I had to pick up a prescription at CVS, then realized I need to color my hair before my brother's wedding, then realized I had no hair color at home — the magic machine gave me $4/$20 John Frieda and it's buy one get one 50% off this week, so I bought two even though I didn't have my ECB with me, lol.
I stopped into Jewel with Mr. 7 and got $1.50 back for post-redeeming my Barbara's coupon for yesterday's trip (dropping that to net $.64 after coupons, Checkout 51, and Shopmium — thanks to David for pointing out the Shopmium!). Then we discovered that if you redeem a Kids Club Produce Card for a free apple and don't buy anything else, it locks up the register, causes consternation, and requires the override key. (One apple before the free card, by the way? $1.15. Not pictured, because Mr. 7 ate it down to the seeds.)
So what is pictured?
CVS
Two John Frieda hair colour, $19.48 after buy one get one 50% off sale.
Used $4/$20 from the magic machine and paid $17.09. (Didn't realize it wasn't up to $20, oops, I totally did not do that on purpose because my bad math in the store made me think it would be $20.48.)
Caputo's
2 Lunchables with Smoothies, $4.00. (Mr. 7 has been jonesing for Lunchables, which I buy maybe once or twice a year, because, ick.) Used two $1.00/1 printables here.
4 Fisher almond pouches, $8.00. Used four $1.00/1 from the 6/15 SS.
3 artichokes, $1.00.
Pineapple, $.99.
Blueberries, $1.50.
Corn, $.75.
Sour cream, $1.00.
Paid $11.44
Ultra Foods
Green Giant Idaho Potatoes, $2.00. Used exp. $1.00/1 Green Giant bagged veggies from the June big book of savings at Jewel.
3 Borden sliced cheese, $5.94. Used exp. $3.00/3 printable (no longer available).
3 lb Granny Smith apples, $2.50.
Paid $6.62. That's $35.15 total. Darn hair color, lol. For the week so far I'm at an out of pocket cost of $53.21 and a net cost of $46.46. How's your shopping going?