The overlapping Nature Valley Catalinas at Jewel, in addition to working on Nature Valley granola bars and Protein bars, also work on Fiber One bars and brownies (thanks, Jori!). So here's that deal:
Buy four for $11.96.
Use two $.50/2 from the 2/26 SS.
Pay $10.96.
Get back a $5.00 Catalina AND a $2.00 Catalina for a net cost of $3.96/4, or $.99 a box.
Bonus Brownies coupons and rolling idea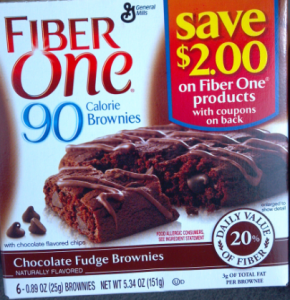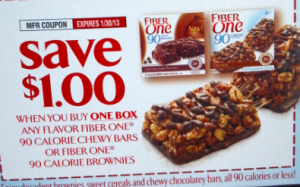 Now, VB did this with Fiber One Brownies and found specially marked boxes with a $1.00 bars or brownies coupon on the back! "Just did this with fiber one brownies. Some of the boxes had 2 cpns on the back of tbe box. One was for $1 off the brownies or chewy bars. So after my initial transaction using the 50 cents off 2 cpns i went to the car and cut out the cpns off the boxes went back did some more transactions rolling the 2 cats. So 4 boxes at $2.99 minus 4 $1 cpns. Total was $7.96 minus $5 cat and $2 cat from previous transaction. Paid $0.96 plus tax and got $7 in cats back! Even the cashier was excited!"
So,
Do round one with the $.50/2 coupons and pay $10.96 for four boxes with $7 back. Look for the specially marked boxes.
Pop out to your car and clip out the four $1.00/1 coupons from the boxes you just bought.
Go back in and Roll! Buy four more specially marked boxes for $11.96. Use your $7.00 in Catalinas + four $1.00/1 coupons. Pay $.96 and get back another $7.00.
Repeat until you get bored — or run out of specially marked boxes 🙂
Your first round runs you a net cost of $3.96 for four boxes, and every round after that is $.96 for four boxes when you roll the Catalinas and $1.00 coupons.