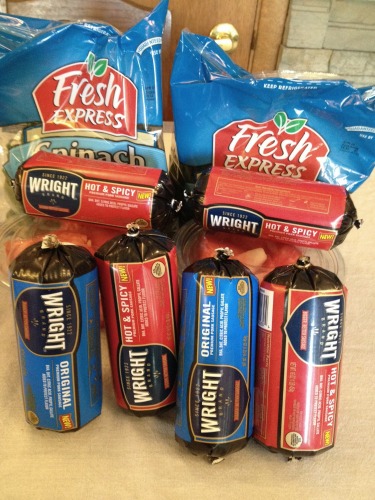 I was out all morning ferrying a kid to a dr. appointment, then stopped by CVS and Jewel after dropping him off safely at school since I was out anyway…
Jewel
Six Wright sausage rolls, $15.00. Used three BOGO from the 3/30 SS and three $1.00/1 printables (no longer available).
2 Fresh Express spinach, $2.00. Used $1.00/2 printable from the Fresh Express salad swap.
Two 22 oz bowls watermelon, BOGO at $3.49.
Paid $9.35. Remember how I said it was just produce and milk this week unless a really great grocery deal popped up? The $.75 sausage rolls qualified. 🙂
CVS
Then I went to CVS for the milk part of this expedition — where, as so often happens, it was cheaper to buy all this stuff than to walk in and just buy a gallon of milk. So here's the thing. We always hear about grocery store competition in the Chicago market, but I think it's important to look more broadly at drugstores, dollar stores, and more. Did I want to stop at another store today after Jewel? Not so much. But, buying a gallon of store brand milk at Jewel while I was there anyway would have cost me straight up $2.57 + tax. Running into CVS on the way home got me name brand milk + several other things for literally half the price of the gallon of generic milk at Jewel.
Multiply that by the number of the people who might run into Jewel for just that gallon of milk and end up picking up other things while they are there (the milk being in the back of the store for a reason!)  — but instead are running into CVS or Walgreens to get name brand milk at the same price or better. No, it's not just milk, but milk is a prime example of what I mean here.
Anyway… here's what I bought.
Dean's milk, $2.99.
4 Almay eyeshadow softies, $19.96. Used $3.00/$15.00 makeup from the magic machine and four $4.00/1 from the 4/13 SS.
2 Scope to Go, $4.98.
popchips, $2.00. Used $.55/1 printable.
Paid with $10 ECB and $2.28. Got back $10.00 ECB ($1.00 milk, $3.00 Almay, $6.00 Scope) to bring that down to net $2.28. Will get back another $1.00 from Ibotta ($.50 milk, $.50 popchips) for a net cost of $1.28 for the lot.