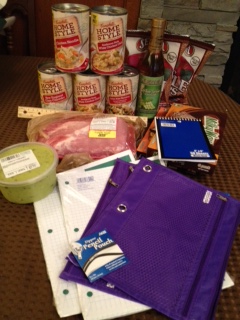 I'm not sure why I bought this pork roast — mostly because I had no idea what was for dinner and it seemed like a good idea at the time, but of course I have not yet even started cooking it, lol.
Kedem white wine vinegar, on clearance for $1.00.
5 Campbell's homestyle soups, $6.25. Used five $1.00/1 from the 10/13 SS and 9/15 SS.
Memo book, on clearance for $.35. (Mr. 6 wanted it, and has already drawn in about half of it!)
2 clearance pencil pouches, $1.00.
2 packs clearance graph paper, $1.00.
Clearance ruler, $.15.
2 boxes Mars ice cream treats, $6.00. Used $2.00/2 in the 9/15 RP.
Pork roast, $5.30.
2 bags Seneca apple chips, $3.98. Used $2.00/2 from the October Big Book of Savings. Which… took off $1.99 because it auto-reduced to the price of one item. Stupid. Jewel. Registers! (Yeah, a penny, no big deal — but sometimes it is, so watch that.)
Guacamole, $2.72.
Paid with a $1.25 Catalina and $18.13. Got back $2.00 for the Mars treats, for a net cost of $17.38.
Signed, don't shop hungry!