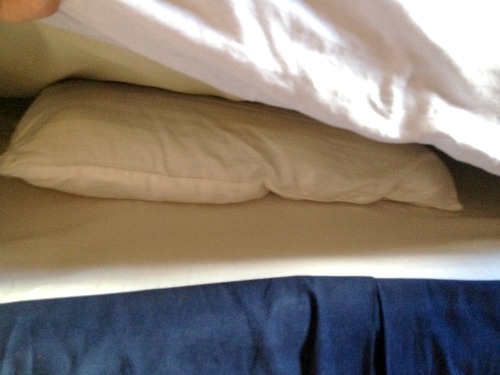 OK… this is one of those things that is so crazy that it just might work! I read this fix for sagging mattresses over at Frugal Freebies and Deals. We've given it a go for the past two nights, and it seems to be doing the trick! Here's the deal:
You know how these expensive mattresses are just not lasting like they used to? We are actually on our second mattress in just a few years, and within about a month after buying this one, it developed horrible indentations on each side where we sleep. So both MashupDad and I have been waking up with back pain and not sleeping especially well because we are sleeping in a hole — not to mention that it's really depressing to spend all that money on a mattress, and then find that it feels nothing like it did in the store within just a few weeks.
Well, check this out: Take two cheap bed pillows. Lift up your mattress. Shove one under the mattress, right under each indentation. Put the mattress back down over it. Lie down and see if it feels like the pillow is in the right place, and if not, lift the mattress back up and adjust as needed.
I'm not sure if this will be a permanent fix for our sagging mattress, but figured it was definitely worth a try. I used two old bed pillows I already had in the house, so it cost us nothing — and I'll tell you that we have slept better and more comfortably for these past two night than we have in a while!
Let me know how this works to fix your sagging mattress, if you give it a try yourself!