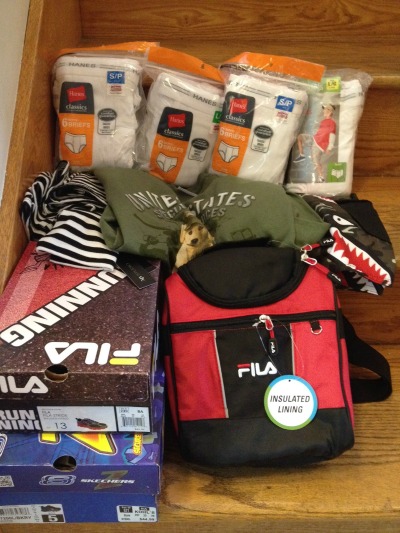 First you have to admire my artistic stairs photography, though, since my table is completely covered with school supplies at the moment… Both boys needed back-to-school shoes (Mr. 7's are literally falling apart — and yes, I'm using that word correctly, lol). So I went to Kohl's armed with coupons and for about $108 I got: Shoes for both boys, an insulated lunch tote, four packs of boys' underwear, clearance swim trunks, clearance tee, and a clearance skirt — plus I got back $20 in Kohl's cash, which I may use online tomorrow to get some of the Lauren Conrad leggings here if they are still in stock.
Then, if you follow the matchups you can probably tell by the photo that I shopped at both Ultra and Jewel on the way. I've seen these Trans-Ocean crab packages on clearance for $.99 at two Jewels now — I think they are changing out the packaging, since they don't exp. til Oct. and identical ones in new packaging were $2.99. I have some old $1.00/1 tearpad coupons in my stash that I will bring in to post-redeem on those. And yes, my Jewel had the signage by the mac & cheese about one transaction, shapes & premium only.
Jewel
2 Kraft shredded cheese, $3.98 after instant savings. Used two $1.00/1 from the July AY.
Breakstone sour cream, $1.29 after instant.
2 Kraft mac & cheese shapes, $.58 after instant.
4 Trans Ocean crab classic, $3.96. Will post-redeem $4 in coupons.
Clearance turkey roast, $4.99.
Flat-out, $2.88. (This was marked 2/$5.00, grr.) Used $.75/1 peelie from the package.
Paid $15.24. Will get back $4.00 when I post-redeem coupons, for a net cost of $11.24.
Ultra Foods
4 boxes Quaker Squares, $5.52 after instant savings. Used two $1.00/2 tearpad coupons.
2 Quaker old fashioned oats, $2.76 after instant savings. Used $1.00/2 tearpad coupon.
2 Brown n Serve, $2.00.
Grapes, $.75.
Corn, $.72.
2 dozen eggs, $1.96.
2 packs Udi's gluten free buns, $7.98. Used expired $2.50/2 printable from way back.
Paid $16.57.