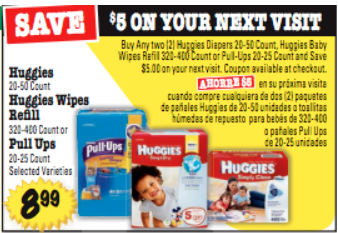 Here's a nice Huggies deal you can do over at Food 4 Less this week!
Get a $5.00 Catalina when you buy two Huggies jumbo pack diapers, wipes refill 320-400 ct, or Pull-Ups jumbo packs at $8.99 each.
This is rolling!
Catalina deal runs through 5/27, but Food 4 Less sale prices flip Wed., so not sure if the $8.99 sale price will continue then.
Here are the coupons you can use for this deal:
Pick Up the Values (must share) has $2.50/1 diapers, $2.50/1 Pull-Ups, $2.00/1 Pull-Ups, $1.00/1 wipes, $2.00/1 Slip-Ons, $2.00/1 OverNites.
Several Huggies coupons in the 5/18 SS.
$.50/1 wipes 4/27 SS.
So your best deal is on Pull-Ups:
Buy two jumbo packs at $8.99 each = $17.98.
Use two $3.00/1 printables = $11.98.
Get back $5.00 OYNO for a net cost of $6.98 for two, or $3.49 each.
(Thanks, South Suburban Savings)