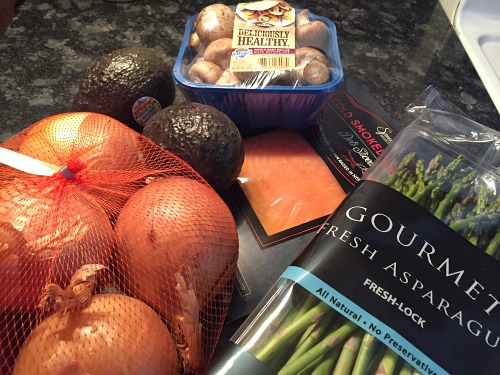 I stopped by ALDI today to collect prices for this week's ALDI meal plan and to pick up cheap asparagus, and kind of impulse bought another little thing of lox — there were only two left, so I had that fear of missing out since it's a special buy!
Let's take another whirlwind romp through a few other things that stand out to me from this week's Chicago area grocery ads — Please comment with your own faves, since this is just a smattering of first impressions and I'm not going in depth here. 🙂
Oh! And I didn't get an Ultra Foods ad in the mail this week, I'm assuming because the Lombard one is closing 🙁 . Has anyone been by yet this week? Have they started their closing sales yet?
ALDI
Chicken drumsticks $.69/lb, St. Louis spare ribs $1.99/lb. Asparagus $1.39/lb, 2 lb carrots $.49, 3 lb yellow onions $.79, 3 pack green peppers $.99. And flat cut corned beef is still $2.49/lb if you have yet to pick one up.
Butera
Prev. frozen boneless skinless chicken breast, $.99/lb limit 2. Family pack ground pork $.99/lb limit 2, point cut corned beef $1.99/lb, whole chickens $.89/lb. Cantaloupe $.79, asparagus $.69/lb limit 2 bunches, mushrooms $.79, cabbage $.14/lb, celery or anise $.99 each. Dozen eggs $.49. 12 ct double roll Fiora bath tissue $2.99. Crystal Farms chunk or shred cheese 3/$4.00.
Caputo's
Chicken leg quarters $.49/lb, bone-in thighs $.69/lb, center cut bone in pork chops $1.99/lb, 80/20 ground chuck $2.49/lb. Cluster tomatoes $.79/lb, Hass avocados $.69 each, FL corn 6/$1.99, organic kale $.69, organic grape tomatoes $.99/pint, asparagus $.89/lb.
Food 4 Less
Pineapple $.99 each. Avocados $.79 each. Powerade $.59. Dozen eggs $.99. Green bell peppers or cukes 2/$.99. Buy five save $5 sale includes after instant Kraft dressing $.99, Goldfish $.99, U Kotex $1.99 ($1.00/1 2/5 SS), Colgate Total $1.99 ($2.00/1 3/5 SS = free Advanced!), Skippy PB $.99.
3 day sale Wed-Fri: Corned beef points $1.87/lb. Green cabbage $.27/lb.
Fresh Thyme
Red or green seedless grapes, $.87/lb, asparagus $1.77/lb, bunch kale $.77, Roma tomatoes $.77/lb, 1 lb green beans $.97, organic red delicious apples $.97/lb. Also whole chickens $.67/lb, chicken sausage $1.67/lb, boneless skinless chicken thighs $1.57/lb, breast $1.77/lb, and walnut halves & pieces $4.00/lb.
Jewel
Three day sale Fri-Sun: 6 oz blackberries, $.69. Mini watermelon, $1.49. Lucerne butter quarters, $1.99 limit 2. Mott's apple juice $1.88 limit 2.
And then all week long: Boneless skinless chicken breast or thighs, $1.49/lb. $.77 each: Chobani (limit 12 — there's $1.00/3 on MyMixx but they still haven't fixed it so it will reduce down to $.77), Signature frozen veggies (limit 10), dozen large eggs (limit 2), and $.77/lb: WA organic Anjou pears, Calif. red peppers, Calif. Brussels Sprouts. Get 5 lb WI russet potatoes for $.47, and these are $.47/lb: Various apples, Florida green beans, Calif. navel oranges. Signature baby carrots are $.99 and use $.50/1 MyMixx = $.49.
Mariano's
They're doing another 5 day sale starting Thurs, including 1 lb carrots $.49, 20 stem daffodils $4.00, Perdue value pack drums or thighs $.99/lb, 16 oz Wonderful pistachios $5.00 (use $1.00/1 in the 1/22 SS).
Meijer
Meijer is doing 10/$10 get the 11th free (starting 3/16). Highlights: 3 lb locally grown apples, celery, 16 oz Meijer sour cream, waffles, Old Orchard juice concentrate — print $1.00/1 here and it is free. Chex Mix. 10 lb nonclumping Tidy Cats litter.
Plus assorted bone-in pork chops $.99/lb. Cabbage 3 lbs/$1.00.
Pete's
Bananas are $.35/lb, WA Red Delicious apples $.65/lb. Tilapia fillets $1.89/lb, dozen eggs $.59, chicken leg quarters or drumsticks $.69/lb. Corn, 3/$.95, Idaho baking potatoes, $.35/lb, TX green cabbage $.15/lb, and Chile green seedless grapes $.75/lb.
Tony's
Corned beef points, $1.99/lb. Kerrygold butter $1.99. Prince pasta $.79. Gatorade $.79 each wyb 12. Roma tomatoes $.59/lb, corn 3/$1.00, cilantro 3/$1.00, radishes $.79/bunch. Boneless chicken thighs $1.49/lb. Gallon milk (excl. whole) $1.99.
Ultra Foods
Ads are probably not valid in closing stores? Their site isn't even showing an ad for Lombard this week, but in the Wheaton ad on the four day sale Weds-Sat you can pick up green cabbage for $.09/lb and point cut corned beef for $2.28/lb. All week, Perdue boneless skinless breast or thighs $1.88/lb, buy six save $3 Unilever deal including Knorr sides for $.78, and bone-in pork steaks for $1.78/lb.
Valli
Green cabbage $.10/lb limit 3 heads. WA red delicious apples $.48/lb, Hass avocados $.68/ea, 5 lb red potatoes $.98, 3 lb yellow onions $.69, cilantro 4/$1.00. 8 oz Kerrygold butter $1.99. Chicken leg quarters family pack, $.49/lb. Point cut corned beef $1.99/lb limit 1.