Here are your Dominick's Just for U updates for 9/26/13, to add to your Dominick's deals shopping this week!
Check your Personalized Deals
It's just getting funny at this point — thanks for the $6.03 Gevalia, which is… $5.00 on the $5.00 Friday sale. Oh, and I have eggs for $1.29, which are $1.00 on the $5.00 Friday sale. Maybe I'll have a week sometime when they won't give me a worse price than one of their sale prices.

And… asparagus for $3.49/lb? Nah, that's OK…
I do have the Herdez salsa cans for $.67 — I bought these way back when, when they were free, and found I really DO like the salsa verde in particular for cooking. So if I get by Dominick's this week, I'll buy some for that price. And I have Safeway variety beans for $.58, so may pick up some of those, too.
Anything good on yours?
Check your Coupon Center
Here are just a few highlights….

Here's something — go in you Coupon Center and load $1.99 Oscar Mayer Deli Fresh lunch meat (must buy three) and a $1.00/2 OM lunch meat. Too bad you have to buy three for that price, but:
Buy three for $5.97 with JFU pricing.
Get $1.00 off with the JFU manufacturer e-coupon = $4.97.
That brings you down to $1.66 a pack.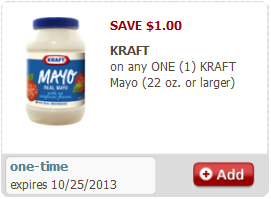 Load a manufacturer coupon for $1.00 off Kraft mayo that doesn't expire til 10/25. This week it's $2.99, so $1.99 after coupon — but maybe it'll go on sale for less. Gamble if you will.

You can load 16 oz grass fed beef for $4.99. ALDI has grass fed beef for $4.49 this week. Anyone done a taste test comparison?
There's a $2.00 off Pyrex prepware and bakeware. Think it would work on like the little measuring cups? Doesn't expire til 11/30, so time to wait for a sale.
There is a manufacturer e-coupon for $1.00/3 Kraft mac & cheese. You can load an $.89 price on JFU, or use the in-ad coupon, and get three for $1.67 after both, or $.56 a box.
Load $1.50/1 Gevalia coffee. This is on the $5 Friday sale, so get one bag for $3.50.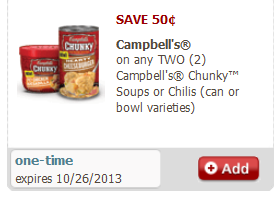 Load $.50/2 Campbell's chunky soup. This is $1.25 with in-ad coupon or JFU price load, so $1.00 each after both.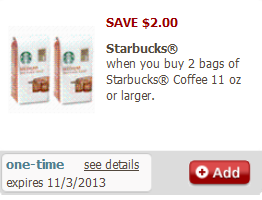 Load $2.00/2 Starbucks bagged coffee.
Buy two 11-12 oz Starbucks bagged coffee 9/1-10/22/13, get a Catalina for $5.00 off your next purchase of a Starbucks gift card from their Gift Card Mall. Turns out this is also working on the K-Cups. If you buy the bags, look for the ones for peelies to redeem for rewards — four gets you a $10 Starbucks gift card. Note that the stars are stuck on the OUTSIDE of the bags, so be sure to find bags where no one stole the peelies yet.