Here are your Dominick's Just for U updates for 8/14/13, to add to your Dominick's deals shopping this week!
Check your Personalized Deals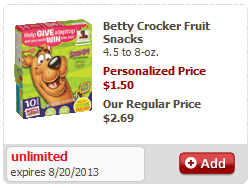 I guess I'm buying fruit flavored snacks, lol. Check your personalized deals to see if you have a $1.50 price as well. IF you do, the $1.00 off each instant savings when you buy four select items should come off that $1.50 price, dropping them to $.50 each before any coupons. See this week's Dominick's matchups for the full list of participating products. Use $.50/2 in the 6/23 SS (exp. 8/17) or 8/4 SS. Print $.60/2 here. And print $.50/2 here. And load $.50/2 on JFU.
I also have Silk almond milk for $2.82, which I'm pretty sure showed up because I bought Almond Breeze this week. Buying Almond Breeze also triggered a $1.00 Catalina for Silk, so I'll probably pick that up for $1.82 after both. They also gave me 10% off salad dressing (excludes mayonnaise — which begs the question: WHO IS PUTTING MAYO ON THEIR SALAD? eww). And I have $.90 Gatorade, which is weird, because I don't ever buy Gatorade.
So what do you guys have?
Check your Coupon Center
Just a few highlights — I'd load everything, because sometimes things disappear before a deal shows up later, and then we're sad when we haven't loaded them, lol. This is probably why there are 507 things on my card right now — crazy sauce.
Anyway, there's a $.50/1 85% grass-fed ground beef 16 oz package, and also $.50/1 Fresh Express family size bagged salad and a $.50 off Boca burgers and $1.00 off YoBaby, for those of you trying to eat healthier.
And, load Nutella, syrup, and Jif coupons. Not that Nutella ever goes on sale at Dominick's, but who knows. Jif is $2.49 with in-ad coupon this week, so get one for $1.99 after you load this digital coupon as well.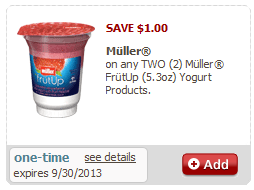 Load $1.00/2 Muller FrutUp. These go on sale for $1.00, or watch clearance.