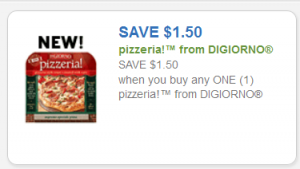 Yesterday, I told you about this $1.50/1 Pizzeria! pizza from DiGiorno. But, I didn't realize there was a Target deal! (Note that this is a new product that not all stores have in yet, though.)
DiGiorno is on sale for $5.00, buy three get a free 8 ct Nestle Drumsticks.
So, buy three for $15.00 + the Drumsticks, and use three $1.50/1 printables (will need two computers) = $11.50.
Then use the $1.00/1 DiGiorno Target store coupon here = $10.50. (Some stores will let you use multiple Target printables in one transaction, so if yours does, use three and make this deal $2.00 better.)
Net cost: $2.63 per item!
(Thanks, The Shopper's Apprentice)