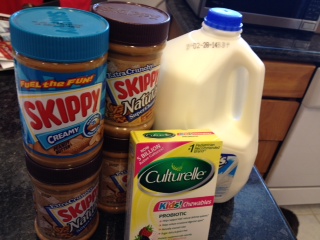 Why perfect? Everything was in stock. (Well, OK, I wanted four Skippy Natural and they only had three, but one regular instead is fine…) I knew where it all was. They emailed me a $4/$20 Valentine's Day coupon. And it took five minutes to get all this for… better than free! I love my CVS. 🙂
4 Skippy, $10.00.
Dean's milk, $2.99. Used $.55/1 in the 1/5 SS2.
Kids Culturelle, $10.00. Used $5.00 printable (no longer available).
Used my $4/$20 and paid with $10 ECB and $3.77. Got back $14.00 ECB: $10 Culturelle, $1.00 Dean's, and $3.00 Skippy. Submitted for $.50 back from Checkout 51 (which they just added to my account while I was typing this!) and $.50 back from Ibotta. Net cost of: Oh look, I'm up $1.23 today! See? Perfect.
Even without the $4/$20, this would have been a super cheap trip — nice deals at CVS this week, esp. on milk and if you printed that Culturelle coupon during the short time it was available! What are you getting this week?