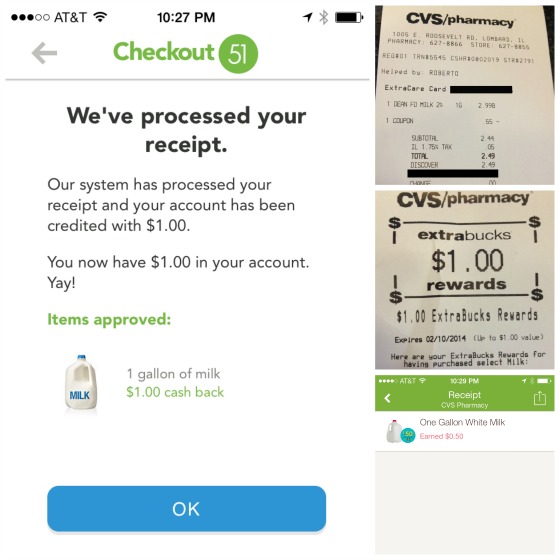 Alas, the milk ECB deal at CVS ends tonight 1/11/14 — but I thought I'd share the fun photographic evidence that everything worked just as advertised today! To recap:
Today at CVS I bought a gallon of Dean's milk for $2.99.
I used the $.55/1 coupon in the 1/5 SS2.
With tax, paid $2.49.
Got back $1.00 ECB = $1.49.
Got back $.50 from Ibotta = $.99.
Got back $1.00 from Checkout 51 = FREE MILK!
I know some of you like to see evidence of how a new app is working out, and so far so good with Checkout 51. So, if you bought milk at CVS over the last couple of days, be sure to submit your receipt to both Ibotta and Checkout 51.
The Ibotta offer on milk expires tomorrow 1/12, and the Checkout 51 offer runs through Wed. So, you can still pick up cheap milk at CVS or elsewhere tomorrow, but you won't get the ECB back. 🙂