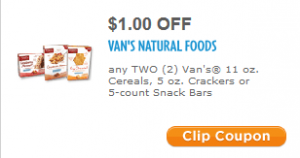 Welcome back to Crunchy Friday for 9/13/13, which rounds up the week's best new organic, natural, green, gluten free, and allergy friendly coupons and online deals. Note: You'll find a mix here — not everything here is organic; not everything is gluten free. Pick the deals and coupons that are right for your own family.
Coupons
Freebies
Kindle freebies
Kindle freebies usually only last 1-2 days, so check that the price is still showing $0.00 before assuming it is still free.
Online deals
Amazon — As always: Amazon prices can change quickly. You can cancel subscribe & save subscriptions at any time under your account. And you need to be logged in to see and clip coupons, which are limit one per account. With subscribe & save, if you have five or more qualifying subscriptions arriving on the same day each month, you get a 15% off discount instead of 5% — making your prices that much better than those shown here.
Recyclebank
Several new Recyclebank earning opportunities this week. Earn up to 300 points with the activities below, and then redeem for high value coupons, among other things.
Recipes