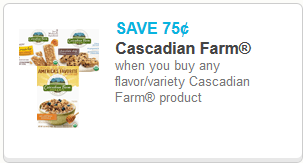 Welcome back to Crunchy Friday (yes, it's Saturday — it's just been that kind of week!) for 9/7/13, which rounds up the week's best new organic, natural, green, gluten free, and allergy friendly coupons and online deals. Note: You'll find a mix here — not everything here is organic; not everything is gluten free. Pick the deals and coupons that are right for your own family.
Coupons
Kindle freebies
Kindle freebies usually only last 1-2 days, so check that the price is still showing $0.00 before assuming it is still free.
Online deals
Amazon — As always: Amazon prices can change quickly. You can cancel subscribe & save subscriptions at any time under your account. And you need to be logged in to see and clip coupons, which are limit one per account. With subscribe & save, if you have five or more qualifying subscriptions arriving on the same day each month, you get a 15% off discount instead of 5% — making your prices that much better than those shown here.
Bob's Red Mill All-Purpose Gluten-Free Baking Flour, 22-Ounce Packages (Pack of 4) is $12.24 shipped with subscribe & save, or $3.06 each.
Happy Baby Organic Baby Food 1 Starting Solids, Fresh Mango, 3.5-Ounce (Pack of 16), $10.88 shipped with subscribe & save, or just $.68 a pouch.
Lundberg Wild Blend, Gourmet Blend of Wild and Whole Grain Brown Rice, Gluten Free, 16-Ounce Bags (Pack of 6) Package May Vary, $15.96 shipped with subscribe & save.