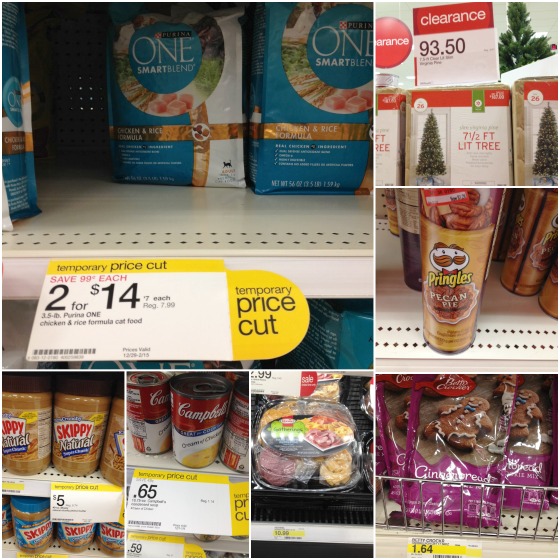 I stopped by Target today to do the Purina ONE deal, and here are some random notes:
The smaller 3.5 lb bags of Purina ONE dry cat food are on sale for $7, so it's actually a better deal to buy those rather than the bigger $11.99 bags with the gift card deal if you have a $5.15 manufacturer coupon. Stack that with the $1.00/1 Target store coupon here and you're at $.85 a bag after both.
7.5′ pre-lit trees are $93.50, half off.
All Christmas clearance at Lombard was still 50% off. I picked up a couple Hillshire Farm summer sausage for $2.99 each and Pillsbury frosting for $.75 each.
Betty Crocker holiday cookie mix (mostly gingerbread) was $.82 on the half off Christmas clearance. Buy two for $1.64 and use $.75/2 in the 11/10 SS or print $.75/2 here to get two for $.89, or $.45 a pouch.
Wrapping paper was $1.25.
OK, I like pecan pie, and I like Pringles, but who thought it was a good idea to mash those up?
40 oz Skippy Natural is on temporary price cut for $5.00.
Campbell's cream of cooking soups were on tpc for $.65. Use the $1.00/5 printable here to get them for $.45 each.
Hormel party trays are $10.99. Print $2.00/1 here. If you have the previously available $2.00/1 Target printable, stack to get them for $6.99.