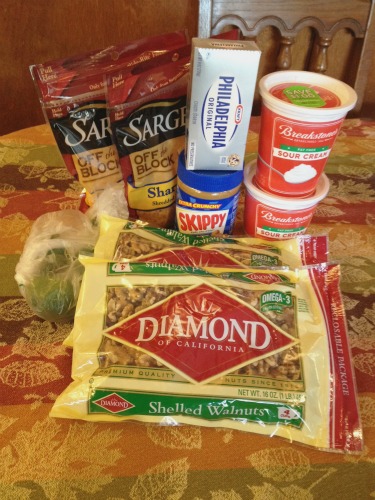 Went to Ultra, and apparently the Lombard store got in… Zero, Zip, Zilch Seattle's Best coffee. I now have a rain check, but not sure it will do me any good since I don't think it's an item they normally carry — not even a spot on the shelf for it, lol. I also accidentally got fat free sour cream instead of regular or low fat. Hmm.
No Coffee Shopping Trip
2 Breakstone sour cream, $2.96. Used $1.00/2 peelie.
Skippy, $.98 with store coupon that came in the mail. Used $.55/1 from the Dec. AY.
Philadelphia cream cheese, free with store coupon that came in the mail.
2 Sargento shredded cheese, $3.76. Used $.50/2 from the 11/3 SS.
2 Diamond walnuts, $9.76. Used two $.55/1 from the 11/17 RP.
3 limes, $.42.
Got $.05 credit for bringing a bag and paid $14.99.
Found this booklet
I know some of you have mentioned this Create Delicious Holidays booklet before (on Kraft displays) but I've only found empty holders til today. Here's what is in it, all good through 3/31:
$1.25 off Jell-O, Baker's Chocolate, AND Philadelphia cream cheese.
Save $1.00 on Jet Puffed marshmallows when you buy Rice Krispies AND M&Ms. Um.
$1.00/3 Dole canned fruits.
$.50/1 Planters nuts.