Stopped by Dominick's and Ultra this morning with my six-year-old shopping companion. He did great, cause we got Oreos…

At Dominick's, I got one of those crazy receipts where nothing is under the item — a random $.75 manufacturer JFU coupon came off in addition to what I used below, but I don't know what it was for.
Dominick's
2 Fresh Express coleslaw, $2.00. Used two $.75/1 from this month's Fresh Ideas newsletter. (Nice big display of these in the Glen Ellyn produce department!)
3 Fresh Express spinach, $3.00. Used three $.75/1 from last month's Fresh Ideas newsletter.
3 Ken's dressing, $1.19 each after in-ad coupon. Also had 10% off dressing on Just for U, which took off another $.60. Used three $1.00/1 from the 8/11 SS.
Kikkoman rice vinegar, $1.69. Used $1.00/1 printable. (These also had $.55/1 hangtags, if you can't get it to print or already used.)
Blue Diamond almond milk, $2.58 with personalized JFU price. Used $.75/1 printable (no longer available).
Random $.75 coupon came off, oops. Paid $3.20.
Ultra Foods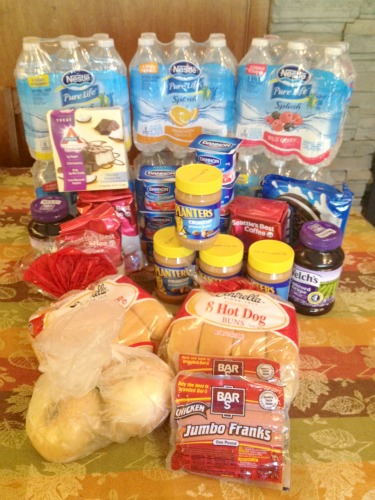 Oreos, $1.88. Used $1.00/1 from the Nabisco back to school booklet.
4 Planters peanut butter, $3.52. Used two $1.00/2 from the 6/30 SS.
2 Welch's grape jelly, $1.76. Used two $.75/1 hangtags.
6 Nestle Pure Life Splash water, $5.28. Used six $.55/1 from the 7/28 RP.
2 Centrella hot dog buns, $1.78.
2 Bar-S hot dogs, $2.50.
7 Dannon yogurt, $2.66.
Atkins Endulge bars, $3.88. Used exp. $1.00/1 from the 5/5 SS.
Vidalia onions, $1.17.
3 Seattle's best coffee, $14.64. Used three $1.00/1 from the 8/11 SS.
Got $.15 off for bringing 3 bags. Paid $27.15. So for the day, $30.35.