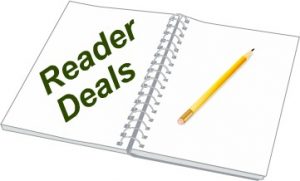 Reader deals 12/11/16: Here are some of the deals, heads up, and requests you shared recently — Thanks! How do you share your own deal?
Carson's
Jen asks: "Anybody else have trouble with their recent carson's orders? I ordered a bunch of stuff on black friday and never got any of it even though my credit card got charged. I didn't get any email ship notices either. When I look at my order history online it shows the order but gives me an error message when I try to click on it. I called their customer service line 4 or 5 times the other day and got busy signals each time, then tried emailing them and got a server error message when I tried to submit, called yet again today and finally had to give up after 30 minutes on hold! I was planning to order something else from them but now I'm definitely rethinking that."
Also having trouble getting through to customer service? Ellen suggests: "when I called Carsons regarding some merchandise that was shipped damaged they gave me an option for them to call me back. I put in a certain time and they called me then. it was really convenient and I didn't have to stay on hold"
Watch your postal mail — tracyS shares: "Carson's sent me a $15/15 coupon in the mail, which is good on incredible values/bonus buys/door busters! Never gotten such a good coupon. Good Sunday until 12/24"
Chicago Tribune
Matt asks: "The Dollar Tree at Howard & Western had a bunch of Sunday papers with only the RP inserts. I'm going to try another one tomorrow, but did anyone else have any issues finding papers with both RP an SS?" Last week I didn't get SmartSource, but it was in the one I bought at DT in Villa Park yesterday…
Coke Rewards
Check for new offers. From seachicago yesterday: "On Coke Rewards today (Sat. 12/10): 12 pack sparkling for 30 pts., limit 2. Also, $10 amazon credit for 170 pts., limit 2"
Food 4 Less
Susie found: "All detergent and snuggle fabric softener and sheets are also part of the b4s$4 at $1.99 after instant savings. So use any q's you have to get it cheaper 😊"
Freebies
From SSMark1: "FREE Stride Gum on your 7-11 APP on Fridays all month long too! Today + 3 more Fridays this month… YAY!!!"
Jewel
Melanie emailed this yesterday: "I bought 2 boxes of McCafe coffee K-cup pods today at Jewel.  They are on sales 2/$10.  The attached coupon [pictured above] came out of the register at the end of the transaction.  Just an FYI."
Maria S. suggests: "Check your MyMixx. I have a $1.10/2 coupon for the Quaker oatmeal."
And ellen says: "last time I bought quaker oatmeal at Jewel I got a $1/1 catalina so check you catalinas."
Heads up from Terri J: "I was looking for Fiora paper towels at Jewel a couple weeks ago when I had a coupon that was about to expire and didn't see them. I'm wondering if Jewel has done away with the brand entirely"
Mariano's
Shandelle asks: "Has anyone found the Santa Twix at Mariano's? I've been to two different ones in the city and they had barely any Christmas stuff at all and no individually wrapped candies."
SmartShopper suggests on the freebies: "The Mariano's in Palatine keeps many of the freebies on an end cap by the first register. If you can't find the free item, ask customer service."
SmartShopper shares: "I just called the meat department at the Palatine Mariano's. The man said the brand of ribs are Smithfield. I was able to print two $1/1 Smithfield Prime Fresh Pork item coupon from Hopster." There's also a $1.00/1 here: http://www.mashupmom.com/coupons-com/?cid=19598360 — it's regional but should show up for anyone in the Chicago area.
Meijer
Jennifer asks: "Has anyone seen a Meijer gift card deal on Meijer brand gift cards? Usually they run a Buy $100 get a $10 bounce back coupon but I have not seen it this year. I usually shop and stock up like crazy when it is running!"
Peter Rubi
Don shares: "Peter Rubi is having a deal on gift cards – buy $100 or more and get $10 free…. purchase in store or on phone and have them mailed…. make perfect gifts !!!!"
Reader requests
Elizabeth asks: "The other day I noticed the old Shop and Save on Golf Road is now a Patel Brothers (www.patelbros.com). Their sale prices seem good. Does anyone know how their quality is and what they compare to?"
And jane is wondering: "Does anyone use an inexpensive coffee maker that they would recommend? I like drip coffee makers, and don't need any bells and whistles like programmable, etc. (and I really don't need yet another appliance with a digital clock in my life…). Ten to twelve cups works for us, so I'm not interested in Keurig-type units. TIA!"
Rebates
GMA KANDE comments: "I had similar problem with Sutter Wine rebate. Told that insufficient information was sent, then when I wrote to them that I had a copy of everything along with the Jewel ads that I could send them they replied that my submission was now OK. They sent an email with a Submission Number to track with a link to their site, but when using that link it would not work. Had to google Inmar Rebates then track it. Only then did the status change that a check was sent out (the next day)? leading me to believe that if you don't track this rebate and stay on it they may not honor the rebate. I wonder when/if the check will ever come."
Recipes
Seachicago shares a great copycat recipe idea: "Thought I'd share this for anyone with Danimals-loving kids: my kids are getting bigger and still drinking these things at a very fast rate! We worked up a copycat recipe this morning, and they all agreed it was delicious! At about 6 cents an ounce, it's a lot cheaper than the pre-made stuff (approx. 13 – 19 cents an ounce). It's probably healthier too, and it's not exactly difficult to make! I'm storing it in a nice lidded glass pitcher I got at the Goodwill the other day for $1.99. Now I wonder why I've been buying it all these years . . .Copycat Strawberry Danimals (drinkable yogurt):*1 cup strawberry yogurt
*1 cup. milk
*1 tablespoon strawberry jam or jelly

Using a blender, hand mixer or immersion stick, blend all ingredients until smooth, store in fridge"
Heads up from Christian: "New email this morning from SC Johnson: "Thank you from [email protected] Thanks for being part of [email protected] The program will be ending on December 31, 2016, but you can enjoy recipes, coupons and tips until then. And remember, you can still follow all the SC Johnson brands using the links below.""
Starbucks
Kari O. shares a code for the Starbucks for Life game: "My store was handing out an extra code to intice people to play: 7DFYG . Every single card was the same code. lol. It gave me an extra piece."
Walgreens
Are you looking at today's Kindle Fire deal, or did you pick one up during the Black Friday sales? Wendy comments: "Walgreens has the Emtec 64GB microSD card for $15.99 again this week. I got this size for my Fire (it can take up to 128GB) because I couldn't find a deal on the bigger one at the time."