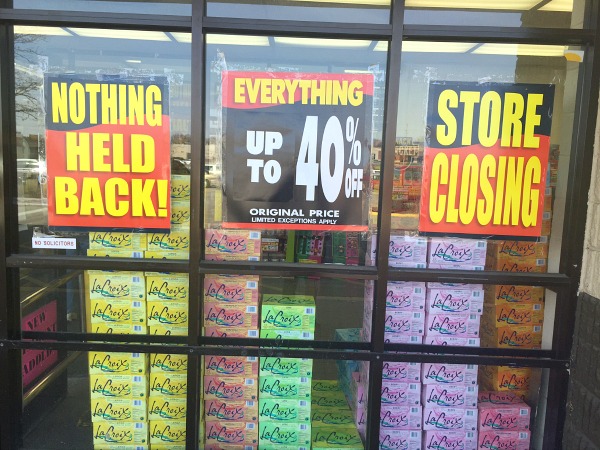 I was driving by the Ultra Foods in Lombard today so thought I'd pop in to see how the store closing sales are going. The Lombard store now sports "up to 40% off" original price signs in the window, but most things seemed to be running about 20% off. Note that is off their inflated shelf prices, so really: Not a sale.
The LaCroix you see through the window was only down to something like $4.49. Here are a few more random examples to save you the trouble of a trip — I left empty-handed.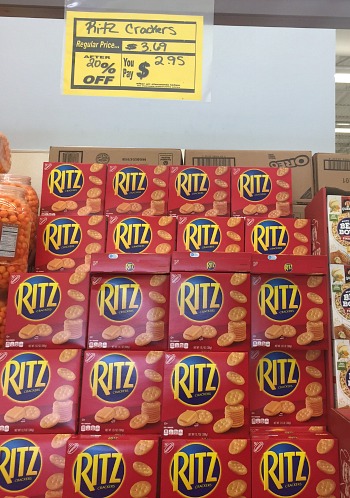 Boxes of Ritz crackers on clearance for… $2.95…
Arm & Hammer detergent, $4.79. (This, by the way, is on sale for $1.98 at CVS through Saturday — $.98 when you print $1.00/1 Arm & Hammer liquid laundry detergent. If they're out, get a rain check. 🙂 )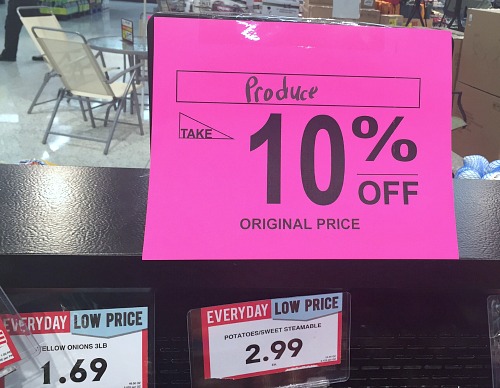 Produce and meat are only down to 10% off shelf price, and big sections are cleared out already. Some frozen foods are at 20% off, and liquor is 25% off.
The empty meat sections were filled with 30% off toiletries, but again, no great deals here. Random price examples: Bic Soleil razors $4.49, Pantene $3.14, VO5 $.62.
I'm sad to see them go, but really, seeing all these high original shelf prices listed makes me realize again how badly they stumbled and lost their price-conscious core shoppers when they remodeled and tried to become more like Jewel. 🙁