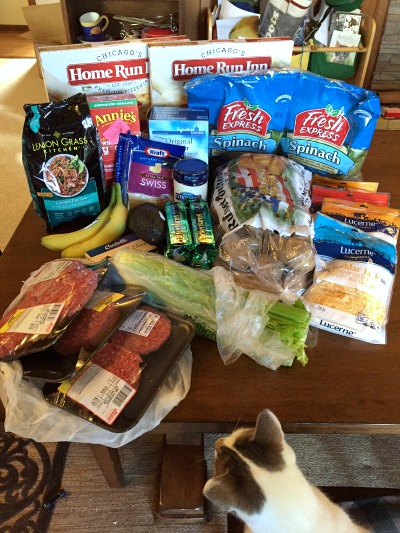 Wow that's a lot of dairy, lol. But stock up while the stocking is cheap, right?
Aside from the fact that I need to vacuum, check out the Notorious BKL, who spies pub burgers with her little eye… so I got six of those on the last day of Jewel's $.99 sale in a set of three and two+one, at about 1.5 lbs each set to make chili with. Other highlights? The $.88 instant oatmeal and $.50 avocados… Fresh Express spinach was on sale 2/$3.00, making it $.50 a bag after the $2.00/2 Fresh Express coupon in the January Big Book of Savings… 10 lbs russet potatoes $.99 today, plus $.25 back on Checkout 51 = $.74. Four Lucerne cheese at $.99 each today only, plus $.50 off on MyMixx and $.25 back on Ibotta = $3.21 for all four, and the Litehouse Ranch was $.99 with the coupon in the 1/29 RP. I was apparently the first person at my store to get the free Lemon Grass Kitchen Facebook promo today, so there was the usual scrambling to find a customer service person and for them to find the freebie barcode while the guy behind me sighed loudly and repeatedly glanced at his watch. You know the drill. 🙂
Down the road at Ultra Foods, Home Run Inn pizza is on sale $4.48 today, while the Annie's yogurt tubes were on clearance for $.99 and the Cracker Barrel and Kraft cheese drop to $1.98 each on a buy five save $5 instantly deal. I got a whopping $.10 back on bananas on MobiSave. Check your coupon stash, because I had expired $1.00/1 and $.75/1 cheese printables to use. ($.98 Cracker Barrel is better than $.99 Lucerne, but I'm out of coupons…)
So after coupons, $32.79 plus $.60 back from the cash back apps = net $32.19. Tonight, leftovers, tomorrow, chili, and Sunday, Super Bowl. That's about it!