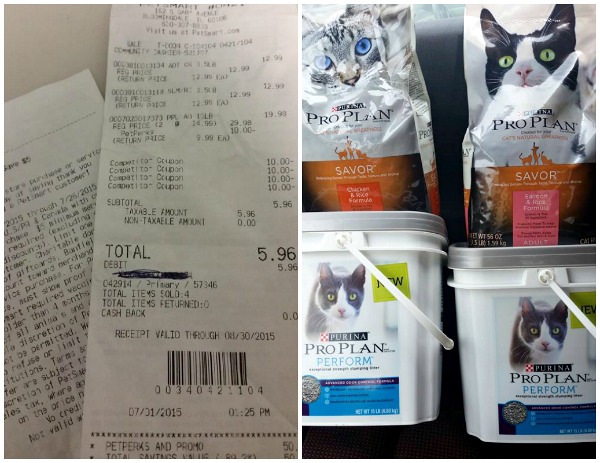 Update: Note from Goddess: "Bizarre that I should be the one pointing this out, but the Purinca cat food coupon is for their new (read expensive $14.99) line called True Nature, not the regular Purina Pro bags, so ymmv if a cashier actually reads the coupon and calls you out – it's not teeny, tiny print, either.
——-
Thanks for this one to Sara on Facebook, who comments: "FREE CAT LITTER AND CHEAP CAT FOOD. There's a $10 off coupon for Purina Pro-Plan Cat litter and food. Pet Smart has the cat litter on sale for $9.99 (July 1 – July 5th) and food is regularly $12.99-$14.99. If you spend $40 or more you get a $5.00 coupon to use July 10th -July 26th. I bought 2 cat litters and 2 bags of food, paid $5.96 including tax and got back the $5 coupon. Awesome deal!!!"
PetSmart does accept competitor coupons, and you can see their coupon policy here.
Note you'll need a PetPerks card for this pricing
Note also that the fine print UNDER the coupon on the printout says one per individual, but there is no mention of this on the coupon itself.