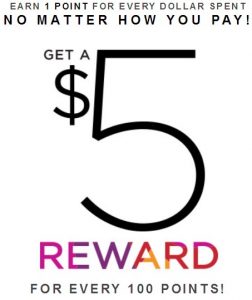 So this is kind of awesome! I'd read a while back that Kohl's was testing rewards in other areas of the country, but … they're now here! And nationwide? As I was checking out today (MashupDad needed shoes desperately), it asked me to sign up for the Yes2You Rewards program, which is free to join. You get 1 point for every dollar you spend at Kohl's, and then get a $5 reward when you hit 100 points.
This also combines with Kohl's Cash — After codes I spent $54.26 including tax on my online order just now, and will get back both $10 in Kohl's cash and 51 Yes2You rewards points. So it's kind of like I am getting $12.50 back instead of $10, since I get $5 credit after I spend another $49 at Kohl's.
Current Kohl's Codes
Here are your current Kohl's codes if you are testing this out with your own online shopping at Kohl's today. You can now stack up to four codes total per order, but can only use one % off your entire order code.
OLAF25 for 25% off Frozen tees
Through 10/4, everyone gets 15% off with code SEPTYES15
Through 10/4, Kohl's charge holders get 20% off with code FALLTRENDS
Through 9/30, $10 off 1.0 oz Forever Vera Fragrance with code FOREVER10
Through ?, free shipping with your Kohl's charge card with code SEPT4UMVC
Through 10/4, get $10 in Kohl's Cash for every $50 you spend.