… These are a few of my fav-orite things. So the new Starbucks Rewards program is now live. Yay? This is fairly bad news for people like me who only stop in occasionally and just buy plain old coffee when we do (because it will take much longer to earn rewards), but good news for those of you who tend to place larger and pricier orders. 🙂
In other Starbucks news, they are bringing an upscale "high-end" coffee shop to the Fulton Market district in Chicago, which will be focused on their rare small batch Reserve coffee beans.
And in my other favorite things news, it's National Library Week! I've been waiting for just such an occasion to post this very cool wooden folding LED book nightlight, because I keep admiring it. So: Books, it is.
But beyond books — if you haven't been to your local library lately, you might want to stop in. For instance: Many libraries get feature films and popular TV shows about as soon as they come out on DVD/Blu-Ray, and we've been watching the final season of Downton Abbey this week from our library. The question keeps coming up of where to find discount tickets to local museums — and many local libraries have passes you can check out for free, so check with yours. (These are very popular, so check your library's policies to see if you can reserve them or when they become available each week first come, first serve.) Look for programs and storytimes for the kids, including free summer reading programs coming up in June at most public libraries. Mr. 9 has read to a dog, Junior High Guy participated in a Wii tournament…
Beyond physical books, also borrow free eBooks for your Kindle or other device. This is great to have access to in addition to the free and cheap Kindle eBooks I list for you occasionally here.
And remember — you can
read Kindle books without a Kindle
.
Speaking of things that are free…
Shoe fly, don't…
We have a shoe theme going in these morning roundups lately, so let's roll with it again today. If you're itching to get outside and get active with a new pair of shoes, check out some bright clearance deals over at ASICS — where you will also get free shipping on all orders.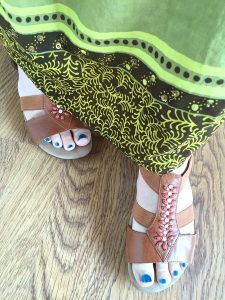 Or shop the Hotter sales event: $25 off one pair, $55 off two pairs, or $90 off three pairs of regular price Hotter Shoes with code XPSAVE90 through 5/11. (New customers can enjoy 40% off their first full priced order + free shipping with code XPAFTY.)
Seriously: Most. Comfortable. Sandals. Ever.
Printable coupons for your Thursday — Including, of course: COFFEE
New and news on your apps

New offers on Checkout 51 this week include $1.00 back on two Nabisco Go Paks and $1.00 back on Ritz, Oreos, Honey Maid, or Chips Ahoy — as well as several Enjoy Life gluten free offers!
Shopmium, however, quietly changed their terms of service this week to disallow stacking with paper coupons. From their site:
We do not allow coupon stacking!  At Shopmium, we take into account coupons associated with your item's final line price. If you upload a picture of your receipt showing a Manufacturer or Vendor coupon* applied to your eligible item, you will be asked to submit a different receipt within the offer's campaign dates.

Our final rebate amount takes into account any other special offers or coupons that are listed on your receipt and relate to the product. The rebate we offer cannot exceed the final price paid for the product and will be adjusted accordingly.
They've started kicking back receipts that show use of paper coupons.
New to Shopmium? Use code GMEFHHTP on signup to unlock a welcome offer for 100% back on a Lindt bar.