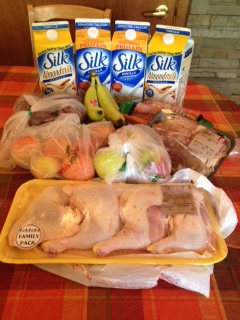 I want to try out a recipe with chicken parts, so ran by Pete's for the $.69/lb chicken leg quarters today on the assumption that it's better to spend just $2.37 on an experiment, lol. If it turns out well, I'll share it with you! Also got honeycrisp apples for $.99/lb to make apple chips this afternoon, and then swung by Jewel for the cheap Silk milk.
Jewel
4 Silk soy and almondmilk, $10.00. Used four expiring $1.00/1 printables (NLA), but there's also $1.00/1 in the 9/14 RP to drop those to $1.50 each.
Paid $6.18.
Pete's
2 lbs carrots, $.99.
Honeycrisp apples, $1.55.
Gala apples, $2.73.
Bananas, $.82.
Meat ends, $2.27.
Chicken leg quarters, $2.37.
Got $.05 off for bringing a bag and paid $10.87. Will get back $.50 from Checkout 51 ($.25 for apples, $.25 for bananas) for a net cost of $10.37.