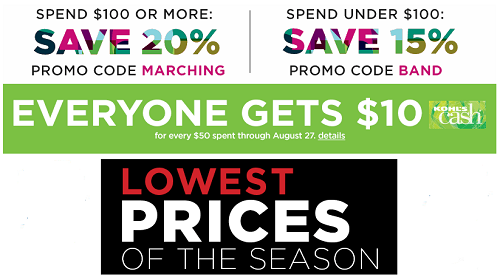 Kohl's has a few new coupon codes out in addition to some "lowest price of the season" sales!
Remember you can now stack up to four codes online at Kohl's, making for some great deals. Note: you can still only use one % off code per order.
Here are the current active codes:
Through 8/27, save 20% on orders of $100 or more with code MARCHING
Through 8/27, save 15% on any order with code BAND
Through 8/27, everyone gets free shipping on a $50+ purchase (normally $75) – no code necessary
Through 8/24, everyone gets 15% off with code THANKS4613.
Through 8/27, get $10 off $30 young men's clothes with code BTS10
Through 8/27, everyone gets $10 in Kohl's Cash for spending $50.

Get these The Big One bath towels for $3.40 after sale and 15% code.

Get these riding boots for $33.14 after 15% code and sale.

These young men's Urban Pipeline polo shirts are $11.99 on sale. Get 3 for $20.57 when you use the 15% off code and the $10 young men's code!