This post has been sponsored by 479º Gourmet Popcorn. I received products for purposes of review; however, all opinions in this post are my own.
It's always nice to find snacks that wheat free dairy free* Junior High Guy can enjoy, so we were excited to try this 479º Gourmet Popcorn recently. Why 479º? Apparently it's the optimal temperature for popping, who knew?! 479º Gourmet Popcorn is made with heirloom popcorn, and features multiple artisan flavors made by hand in small batches. They sent over three kinds to sample: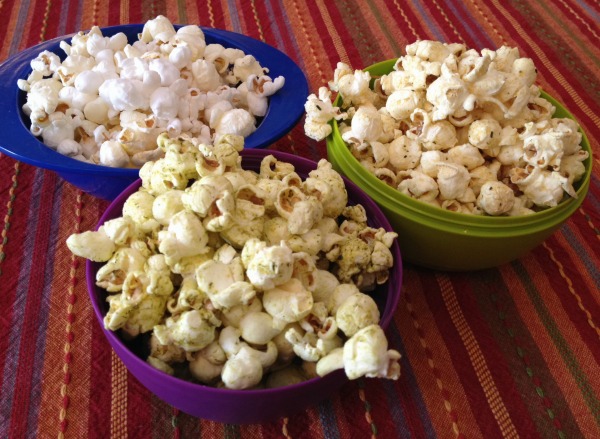 Toasted Sesame + Seaweed (green bowl), Farmers Market Herbs (purple bowl), and Sea Salt (blue bowl). Even though this is bagged popcorn, look how fluffy it stayed — and so nice and fresh, right out of the bag.
What I like about 479º Gourmet Popcorn: It's air popped, made with organic popcorn, has no trans fat, no artificial anything, and is non-GMO verified, Kosher, and certified gluten free. You can see the simple all natural ingredients above; the Sea Salt variety, for instance, sports just organic heirloom non-GMO popcorn, high oleic sunflower oil, and sea salt.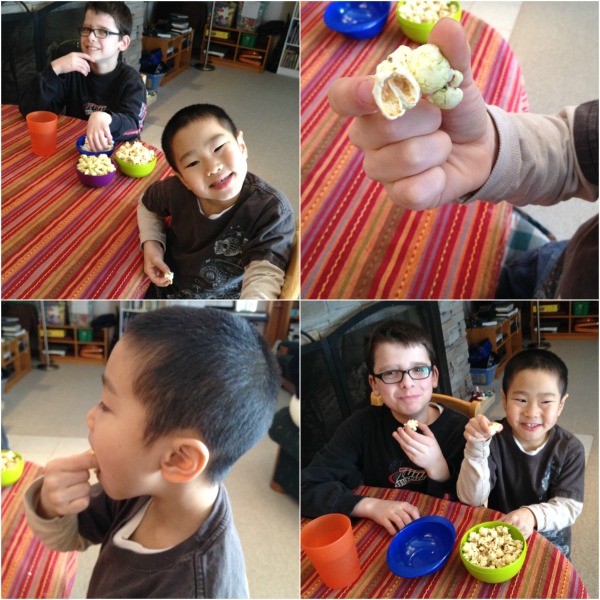 But all that aside, how did it taste? My tiny taste testers went to work, and pronounced the sea salt divine, the seaweed very good, and the farmers market "nice but weird sweet." They have a point there — it was indeed kind of sweet-savory, which I didn't at all expect from the name. Oddly, Mr. 7 quite liked the seaweed variety, which I didn't expect, since he doesn't actually care for seaweed snacks. I think as a popcorn flavor it was balanced out by the popcorn and more mild than eating seaweed itself, so that was a surprising hit. You can see above that the sea salt disappeared almost immediately, but never fear, they then went to work on the rest…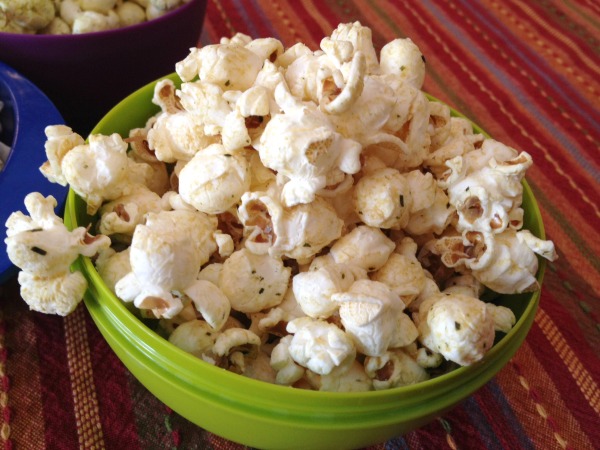 It looks fresh-popped, doesn't it? Nope, right out of the bag!

Want to try some 479º Gourmet Popcorn?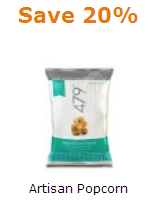 You are in such luck, if so! Right now you can clip a 20% off coupon on Amazon for both large and single serve bags of 479º Gourmet Popcorn — and check out all their five star reviews there, too!
In addition to the three varieties we sampled here, you can also pick up such deliciously different sounding (if dairy filled) flavors as sea salt caramel, white cheddar + black truffle, and chipotle caramel with pumpkin seeds. Oh, 479º Gourmet Popcorn, you had me at sea salt caramel…
Otherwise, check their store locator to see where you can find 479º Gourmet Popcorn near you, or purchase on the 479º site. (In my area, both Lemon Tree Grocer and Super Target seem to carry.)
* Note — while all varieties of their popcorn are gluten free, even the nondairy varieties we tried are processed in a facility that also processes milk products. This isn't a problem for Junior High Guy, but just something to be aware of if you have a more severe dairy allergy in your household.