Here are some of the deals (and heads up!) YOU found recently — Thanks! How do you share your own deal?
Email Rachel: rachel@mashupmom.com.
Comment on any post where it seems to fit.
Post on the Facebook Wall.
If you are sharing a deal from another site or an online coupon, please include the link. If you found a deal at a specific store, please include the location.
Family Dollar
From Elizabeth,"Sale $1.50 on Hawaiian Punch! Today only, when you shop at Family Dollar, you'll get Hawaiian Punch for the whole family to enjoy – for just $1.50 with your Daily Deal. Text DEALS to 28767 for your coupon code because this deal is for one day only."
Gift Cards
Lego
Sam's club
Amy found a deal at Sams club in Crystal Lake. Super cheap for coconut milk!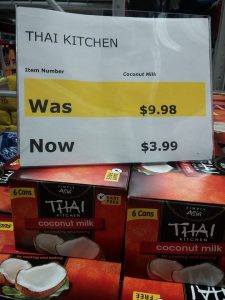 Shoprunner
Jennifer sent this comment, "received an email this morning about Shoprunner.  I have the free membership as an American Express card holder.  The email states that my free membership is being extended for another year, courtesy of American Express.  If you get the email, you have to log into your Shoprunner account, go to your Account section, and click the "Get Started" button.  They will ask for your card number (but not the expiration or CVC number).  And you are good to go!"