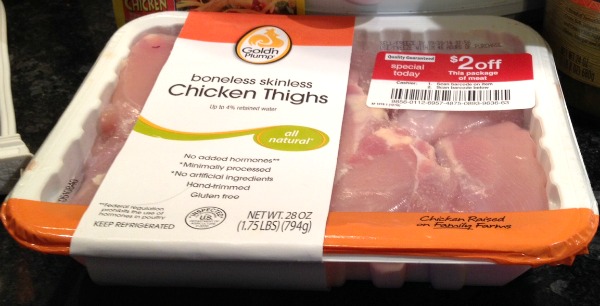 I often get questions here about how to save on meat, and here's one answer:
How to Save on Meat with Target sales + printable coupons
I always print Gold n' Plump chicken coupons when available and carry them with me on every Target trip, because they often have nice clearance (especially at SuperTarget).
The last $1.50/1 coupon they emailed out got me free bone-in chicken breast last week after Target sale + clearance sticker.
My pack of boneless skinless chicken thighs pictured here was also from Target clearance about three weeks ago (regularly $5.99 for 1.75 lbs, minus $2.00 clearance sticker, minus $1.50/1 coupon = $2.49, or $1.42 a pound).
While not currently available, also watch the Target printable coupons site and mobile coupons for occasional $/$$ meat offers and Gold n' Plump Target coupons to stack.
If you printed the $1.50 coupon today it doesn't expire til 11/28, so plenty of time to watch for clearance. You can also print a $1.00/1 Gold n' Plump coupon on their site and sign up for future higher value email offers there.