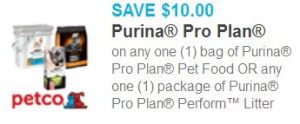 Look what just popped up: Print $10.00/1 Purina Pro Plan pet food or Purina Pro Plan Perform Litter.
I'm not sure if the Petsmart sale is still on (remember: They accept competitor coupons!) — but even if not, this is a nice high value coupon for a great discount at either store.
I just checked Petco online and the 15 lb tubs of litter are $9.99 — so if they are that price in store it should make for free cat litter!
If anyone goes today, please comment with the current pricing. Thanks!