I received Wholly products for purposes of review. All opinions in this post, however, are my own.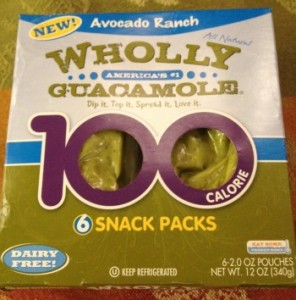 Wholly Guacamole will soon be launching a dairy free avocado ranch flavor! I have no idea how they did that, but it really does taste like there is ranch in there.
It comes in these little snack packs. Which a dairy free 10 year old, by the way, can devour in about 30 seconds.
With carrots, or with corn chips, or… with his finger.
Mr. 5 was also a fan. And when I say fan, I mean: They started fighting over about as soon as I took this photo, and I had to get him his own bowl. Then Mr. 10 complained that Mr. 5 had already taken a bite out of HIS bowl and it wasn't fair because now HE had less. And then…
Well, you can see that non-dairy Avocado Ranch Wholly Guacamole may not bring family harmony (I'd suggest starting everyone out with their own bowl, though!), but they both enjoyed it thoroughly. Me? I thought it tasted exactly like there was ranch in it, but honestly prefer my guacamole a little less… adulterated. 🙂
Disclosure
I received a package of dairy free Avocado Ranch Wholly Guacamole for the purposes of this review. All opinions in this post,  however, are my own. (Well, the kids also had their opinions…!)