Reader Deals 7/30/15: Here are the deals, heads up, and requests you shared over the last 24 hours — Thanks! How do you share your own deal?
Email Rachel: rachel@mashupmom.com.
Comment below, or on any post where it seems to fit.
Post on the Mashup Mom Facebook page.
*** If you are sharing a deal from another site or an online coupon, please include the link. If you found a deal at a specific store, please include the location.
ALDI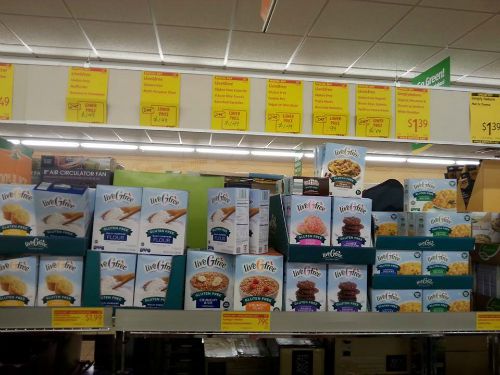 Charlotte commented on Facebook yesterday: "Saw this at the Lily cache lane aldi in Bolingbrook this morning, for all you gluten free peeps"
Meijer
A heads up from jennyh: "Got an email today from Meijer, baby rewards are changing and moving to personalize rewards. I gather its because they want to put time limit to earning rewards. Boo"
On the baby rewards note, Andrew F. shares: "Here's a really great Pampers Diapers and Wipes deal this week. Pampers Diapers and Wipes are included in the P&G Household $5/25 deal. This will stack well with the $5/$30 Catalina. I stumbled onto this deal while in the store and did one Baby Dry Super Pack ($24.89) and one Wipes 64 count ($1.59). I had a few other items to hit the $30 total. Use the $2/1 mPerk for diapers and $0.50 mPerk for wipes (or identical paper coupons from the latest P&G). I got both the $5 P&G ONYO and the $5 Meijer ONYO. Also applies to mPerk baby rewards, so effectively another $2.65 off in the future. Slightly better deals would be using paper/printables and buying Jumbo Packs ($8.99). For Cruisers or Swaddlers, buy 3 diapers and 3 wipes, use (3) $2/1 Diapers and Wipes printables [Swaddlers here or Cruisers here]. For Baby Dry, buy 3 diapers and 2 wipes, use (3) $1.50 printables and (2) $0.50 wipes paper coupons."
And ann piotrowski shares that: "Save $5.00 OYNO wyb $30.00+ — on your total purchase is working before coupons and discounts. Did one order with razors (had spend 30 earn 5 personal care on mperks) and one order with the b1g1 stayfree coupons. Worked great. The $ 5.00 OYNO is a store coupon and does not roll. Will be doing the J & J next, along with the P & G."
Reader requests
One from letsshop: "Would you mention where the best deals are for Bunn coffee pots ? so far its close to $100 at Kohls"
Christine asks: "anyone know what a good price on Method laundry soap would be? I have a $3 coupon and wondering if $9.49 for 53 oz is good."
Redbox
An online-only one night Redbox rental code today July 30 only, from letsshop (who saw it on Hip 2 Save): UB89RBBB.
Staples
Marsha shares: "Staples's ad is out for the week of 8/2 – they're going to have the Crayola washable markers for $0.75. Limit 5, no min purchase. Excellent for price matching, too!"
Target
LauraC shares a deal: "Target Hillside has the 9 ounce Evol Quesadillas on sale for $1.98 until 8/1. The $2.00 Evol coupon works on them plus there's a Cartwheel too. I've looked for these at other Targets and I've only found them at Super Targets."
And from seachicago: "Not sure what happened, but I got (3) 12 packs of Diet Coke for $5.18 (actually, $4.92 after my 5% redcard discount). My receipt says: Package subtotal: $11.97. Coke Diet Promo: -$3.99. Cartwheel: -$2.80. Can anyone figure out the math on that one??? Each 12 pack was $1.73 (or $1.64 after redcard)—best price I've gotten in years, maybe ever! High Chicago tax though, at 12.25%. Anyone know how many times you can do a deal on Cartwheel? I'd like to get some more!" Unless otherwise stated, Cartwheel is four per transaction, six transactions per day. Check the fine print on each offer, though.