I received holiday treats from ALDI for purposes of this review. All opinions in this post, however, are my own.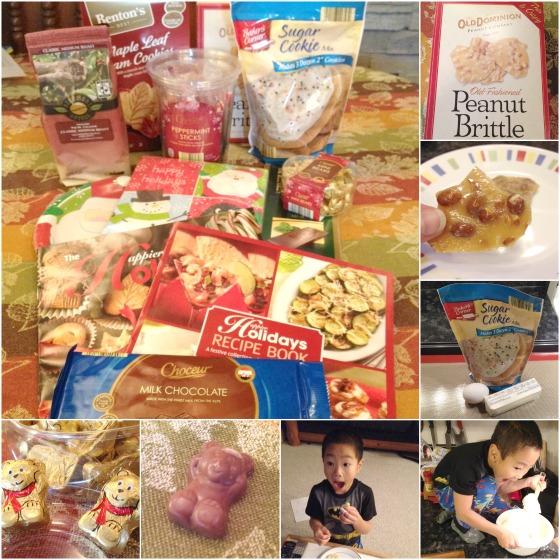 ALDI recently sent over a selection of their seasonal holiday treats and entertaining items — so let me tell you about a few of my favorites. Starting with: Old Dominion peanut brittle, just because it's marked gluten free and contains no dairy ingredients, so Junior High Guy was able to partake with the rest of us. (And partake, he definitely partook — he turns out to be a big peanut brittle fan!) Old Dominion is just $.99 at ALDI as a seasonal item. I've seen it at twice the price at other local stores, so a very good deal there.
Then, while junior high guy was at a friend's house, Mr. 6 and I also made the Baker's Corner sugar cookies. These were super easy, just add egg, butter, and water, and tasted and baked up pretty comparable to the name brand, at $1.69 every day. And — aren't the little chocolate bears adorable? lol Speaking of adorable, the Boulder holiday tableware pictured above is also just $.99, so an easy buy if you're planning a holiday party for the younger set.
Lastly, we did also try the medium roast Beaumont fair trade coffee, which is a very good price for fair trade at $3.99. MashupDad and I both found it not bold or smooth enough for our taste, but coffee is a very personal preference. All in all, some nice prices on items for holiday entertaining, and overall a great quality for the price. I told you last month about the baking items on sale at ALDI (which are still a great seasonal bargain) so between those and these new entertaining sweets ideas, you should be covered for the holidays!