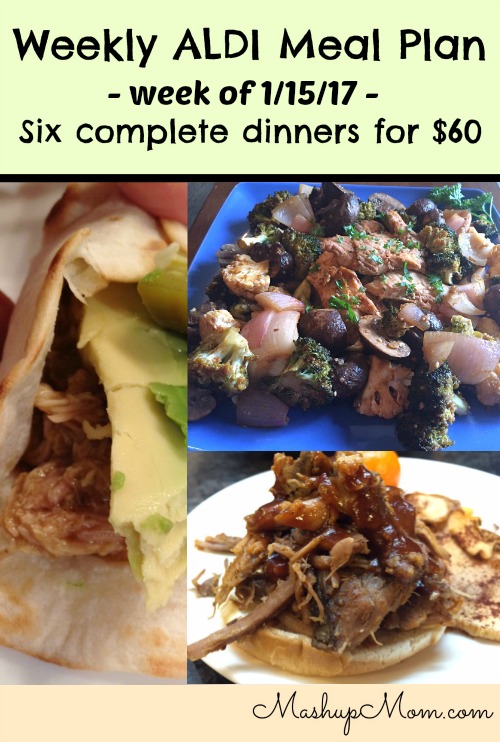 Here's your easy weekly ALDI meal plan for the week of 1/15/17: Pick up everything on the shopping list below, then start cooking on Sunday! Hope you find it useful.
Note: I try not to repeat the same recipe here more often than once a month, but you will see favorite easy recipes come up again on these weekly ALDI meal plans as the same meats and produce items come up on sale again. 🙂
ALDI meal planning week of 1/15/17 – 1/21/17
Six complete dinners for a family of four for $60.00
Prices here are collected from this week's ad and my local store, but may vary somewhat by location. I'm assuming here that you already have pantry basics like olive oil and spices on hand.
Six Easy Dinners from ALDI for $60.00
Sunday: Easy one pan sriracha chicken & veggies. (Slice 1.5 lbs of chicken into strips for this recipe, reserving the rest for Tuesday, and substitute yellow onion for red.) Note: ALDI does not carry sesame oil — just a little bit adds a nice flavor & is a great product to have on hand for a lot of recipes, but feel free to leave out if you don't have in your pantry. Side: Organic mixed greens salad, mandarins.
Monday:  Meatless Monday breakfast for dinner: Mushroom, cheddar, & spinach omelet. Serve with pan fried diced potatoes and fruit: Blueberries, sliced mango, mandarins.
Tuesday: Salsa chicken (use the other three lbs) — serve in tortillas with guacamole, cheese, diced tomatoes, & sour cream. Side: Spanish rice.
Wednesday: Slow cooker pulled pork — use for BBQ pork sandwiches. Sides: Oven baked potato wedges, plus roast the rest of the cauliflower & broccoli with garlic & seasonings of choice.
Thursday: Easy salsa chicken enchiladas. (Stir a little cumin, garlic powder, and chili powder into tomato sauce and spread half in the bottom of a 9×13 baking dish. Stir a little sour cream into some leftover salsa chicken, spoon chicken mixture down the center of each tortilla, roll up and place seam side down. Top with the other half of the tomato sauce and more shredded cheese. Bake at 350 degrees for 30-35 minutes, until browned on edges and top with sliced avocado.) Side: Sauteed kale (substitute water for stock), mandarins.
 Friday: Pulled pork burrito bowls: Cooked rice topped with leftover pulled pork, black beans, avocado, shredded cheddar, diced tomatoes, & salsa. Side: Spinach salad topped with sliced hard boiled eggs.
Saturday: Leftovers — or date night!
Shopping list
Dairy & refrigerated
16 oz Friendly Farms shredded cheddar, $2.99
16 oz Friendly Farms sour cream, $1.19
Dozen Goldhen eggs, $1.19
Grocery
Burman's BBQ sauce, $.95
L'Oven Fresh hamburger buns, $.85
3 lb Earthly Grains long grain white rice, $1.29
SimplyNature organic black beans, $.79
2 jars SimplyNature organic salsa, $3.78
Casa Mamita taco seasoning, $.35
2 packs El Milagro flour tortillas, $1.70
Can Chef's Cupboard chicken broth, $.59
Happy Harvest tomato sauce, $.29
SimplyNature organic dressing, $1.99
Fusia Sriracha, $1.99
Meat & seafood
3 lb pork sirloin roast, $5.97
5 lbs boneless skinless chicken breast, $7.45
Produce
6 avocados, $1.96
16 oz Roma tomatoes, $.99
3 heads garlic, $.99
3 lb yellow onions, $1.69
8 oz mushrooms, $1.29
8 oz baby bella mushrooms, $1.69
Two packs 5 oz SimplyNature organic baby spinach, $3.96
16 oz broccoli, $1.49
Head cauliflower, $1.99
Pint blueberries, $1.69
Mango, $.59
3 lb Cuties mandarins, $2.49
5 oz SimplyNature organic mixed greens, $1.99
12 oz SimplyNature chopped organic kale, $2.49
5 lbs baking potatoes, $1.49
---
That comes to $60.15.
You can adapt this ALDI meal plan
Adapt this ALDI meal plan to your own family's preferences or just use it for ideas to add to your own meal planning for the week. These meals will likely run you even less if you supplement this week's ALDI purchases with clearance meat you already have in your freezer, produce you have on hand, and/or sale produce from your local produce market. Let me know if you give it a try!