Stopped by CVS and Pete's Market this morning. On the Muir Glen tomatoes advertised for $.99 in this week's Pete's ad, two notes: 1) Look for $1.00/2 peelies on some of the cans, and 2) only SOME of the varieties are $.99, although there are random $.99 tags placed on the shelf under some of the products that are ringing up at $2.39-$2.59. I put those back.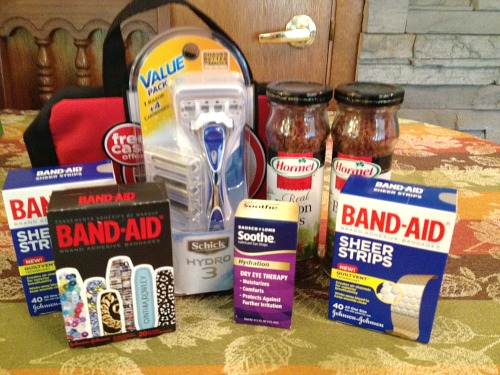 So at CVS, I accidentally went into tax with coupons — I thought these Band-Aids were $3.79 each, but they turned out to drop to 2/$7.00 wyb two. I'm not sure why the register allowed it, oops! Also, the Soothe was clearanced at $5.99 at my store. I decided to try it anyway, and it DID produce the ECB. (Note that this is a risky game, lol.)
Soothe, $5.99. Used $4.00/1 in the 6/30 SS.
2 Hormel bacon bits, $3.00 with rain check. Used $1.00/2 printable here.
Schick Hydro 3 (with 4 bonus cartridges!), $9.99. Used $2.00/1 in the 7/28 SS.
2 Band-Aid, $7.00.
1 Band-Aid, $3.49. Used $5.00/3 Band-Aid products from the booklet in the last free first aid bag.
First Aid bag, FREE wyb 3 Band-Aid.
Used a $5.00/$25.00 that came in email. Paid with $13.00 ECB and $.45. Got back $14.00 ECB: $5.00 Band-Aid, $5.00 Soothe, $4.00 Schick. Up $.55 this transaction.
Then I went down the road to Pete's. When I saw the peelies, I was going to buy more tomatoes, but put several cans back when they rang higher (see note above). Oh well!
4 Muir Glen organic tomatoes, $3.96. Used two $1.00/2 peelies.
7 limes, $.45.
Bananas, $1.00.
Sourdough bread, $3.29.
Got $.05 off for bringing my own bag and paid $6.80. So, my out of pocket cost today was $7.25, and my net cost was $6.25.
How did your drugstore shopping go this morning?