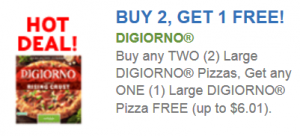 A few new coupons this morning — first up: Buy two get one free DiGiorno pizza!
At CVS this week, DiGiorno is $4.99.
So, buy three for $9.98 after the buy two get one free coupon — or,
Stack with the $2.00/2 in the 11/3 RP (for the two you are 'buying') and get three for $7.98! This one exp. 12/31, however.